Nature Communications publication:A human endothelial cell-based recycling assay for screening of FcRn targeted molecules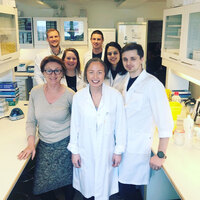 In a study published in Nature Communications on February 12th, establishment of a novel in vitro cellular assay is reported, which can be used to gain in-depth insights into how antibodies and albumin variants are transported in and out of cells, and to predict how efficiently such molecules are rescued from intracellular degradation. The assay has been coined HERA and stands for human endothelial cell-based recycling assay.
The study is based on research conducted by scientists from the Laboratory of Adaptive Immunity and Homeostasis, headed by Jan Terje Andersen, at OUH and UiO, together with several international collaborators from Harvard Medical School, The Jackson Laboratory and Roche Pharma Research and Early Development in Munich.