Licensing validates Norwegian platform technology for the development of tailored monoclonal antibodies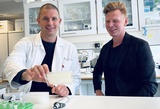 This summer, the U.S.-based biotechnology company Mage Biologics Inc was formed. Up to USD 28 million will be jointly invested in the new company, in which an antibody technology has been in-licensed from Inven2, based on research carried out in Professor Jan Terje Andersen's lab.
"Mage Bio is developing a tailored monoclonal antibody that will be administered non-invasively. This is a completely new and innovative approach to the treatment of a serious chronic disease that causes inflammation and ulcers on the inner lining of the large intestine. There is clearly a need for a new treatment option for this patient group, and it will mean a lot for the patients if Mage Bio succeeds," says Jan Terje Andersen, head of "The Laboratory of Adaptive Immunity and Homeostasis", which is part of both the University of Oslo and Oslo University Hospital.