Albumedix has signed research agreement with OUS and UiO on CIR research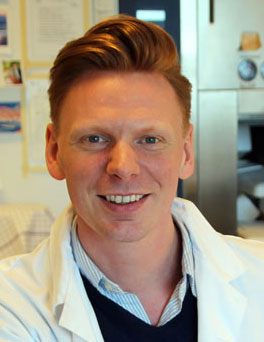 In a press release, the pharmaceutical company Albumedix (Copenhagen, Denmark) has announced that it has signed a strategic research agreement with Oslo University Hospital and University of Oslo. The three organisations will work together to improve understanding of the interaction between bioengineered albumin variants and the neonatal Fc receptor (FcRn).
The research agreement is a result of a long collaboration between Albumedix scientists and Jan Terje Andersen and Inger Sandlie from CIR (UiO) and Department of Immunology (OUH).
The aim of this research agreement will be to establish an in-depth molecular, cellular and in vivo understanding on how FcRn acts as a key player in homeostatic regulation of albumin and albumin-based therapeutics using state-of-the-art technologies and animal models.
From the press release:
Jan Terje Andersen, Head of The Laboratory of Adaptive Immunity and Homeostasis research group at Oslo University Hospital and University of Oslo is currently undertaking a program of work to study the cellular processes and molecular interplay underlying the functions of the two most abundant proteins in blood, albumin and immunoglobulin G. The use of Albumedix' proprietary Veltis® albumin variants will be key to these latest studies.
Jan Terje Andersen commented, "The Veltis® technology platform is based on ground-breaking science with enormous potential. We are convinced that the unique technology platform has a great potential for development of novel therapies with tailored delivery and improved performance. Therefore, we are delighted to extend our collaboration on gaining a more fundamental understanding of the FcRn-albumin biology, which will guide how albumin-based therapeutics should be designed to achieve favorable pharmacokinetics to the best for the patients' medical need".
Links:
Read the full press release at the Albumedix website
News article from inven2 (in Norwegian): Albumedix annonserer samarbeid med toppforskere
("Albumedix announces collaboration with top scientists")
Home page of Jan Terje Andersen's research group:
The Laboratory of Adaptive Immunity and Homeostasis
The Laboratory of Adaptive Immunity and Homeostasis (Andersen Laboratory) Facebook page
CIR - Centre for Immune Regulation