Childhood trauma in patients with severe mental disorders linked to shorter telomeres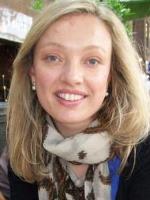 Research published March 21st in the open access Nature journal "Translational Psychiatry" found patients with severe mental disorders who had experienced childhood abuse to have shorter telomeres, a predictor of biological age.
Here, Monica Aas, lead author of the study together with Torbjørn Elvsåshagen and Ole Andreassen tells us about the findings and what the next steps are for the field.
Links:
Article by Monica Aas about the findings, from the "On health" research blog:
Childhood trauma in patients with severe mental disorders linked to shorter telomeres
The article, from Translational Psychiatry:
Telomere length is associated with childhood trauma in patients with severe mental disorders
Monica Aas, Torbjørn Elvsåshagen, Lars T. Westlye, Tobias Kaufmann, Lavinia Athanasiu, Srdjan Djurovic, Ingrid Melle, Dennis van der Meer, Carmen Martin-Ruiz, Nils Eiel Steen, Ingrid Agartz & Ole A. Andreassen
Translational Psychiatry 9, Article number: 97 (2019)
---
Oslo University Hospital based NORMENT research groups
Oslo University Hospital affiliated NORMENT group members
About Monica Aas:
Monica Aas is the Principal investigator (PI) on the project "Stress Under Skin" (SUS). NORMENT, Centre for Psychosis Research, Division of Mental Health and Addiction, Oslo University Hospital & Institute of Clinical Medicine, University of Oslo, Norway. Monica has a PhD from Kings College London, and has received 12 international research prizes for young researchers. She is passionate in exploring the interplay between genes and environment, creating and presenting widely accredited papers and delivering lectures on a range of topics, including examining the link between early trauma and development of psychiatric disorders. Monica is also a member of the Young Academy of Norway founded on in 2015.