King Olav V's cancer research prize for 2016 to Kjetil Taskén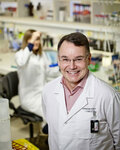 Kjetil Taskén (photo: nyebilder.no)
King Olav V's cancer research prize for 2016 goes to Kjetil Taskén. He receives the award for his outstanding work in the field of immunotherapy.
The award will be handed over by HM King Harald V on behalf of the Norwegian Cancer Society in Oslo June 6th. The prestigious prize is distributed annually by the Norwegian Cancer Society, and the winner receives NOK 1.000.000.
Taskén has been Director of the Centre for Molecular Medicine Norway (NCMM) since 2009 and Director of the Biotechnology Centre of Oslo since 2003. He also has a position as a senior researcher at the Department of Infectious Diseases at the Division of Medicine, Oslo University Hospital.