OUS Excellent Articles Awards: Prizes for outstanding research articles published in the second half-year of 2022
In order to stimulate excellent research and draw attention to the hospital's research activity, Oslo University Hospital rewards outstanding publications every half-year.
Six research groups were awarded for their excellent papers published the second half-year of 2022 during a ceremony on June 14th.
Each group received NOK 50.000 earmarked for further research, and the prize winners gave short presentations of their main findings.
Among this year's winners, we find new insights that can reduce antibiotic use in cancer biopsies, regulation of cell division in wound healing with implications for cancer cells, epigenetic changes in brain disease, precision treatment of leukaemia, biomarkers for delirium in hip fracture and occurrence of cardiac arrhythmias in children.
The winning articles show that OUS makes important contributions to the understanding of processes in disease development, leading to improved diagnosis and treatment, says research director Erlend Smeland, who was responsible for the award.
The awards for outstanding research articles are awarded twice a year based on over 2,400 scientific articles published annually by OUS. It is the research committees in the hospital divisions that nominate the articles. An external committee evaluates the nominated articles, and finally selects the six worthy winners.
The winning articles must have achieved international impact or excelled in other ways. It is also required that the articles maintain a particularly high quality and communicate important findings. ​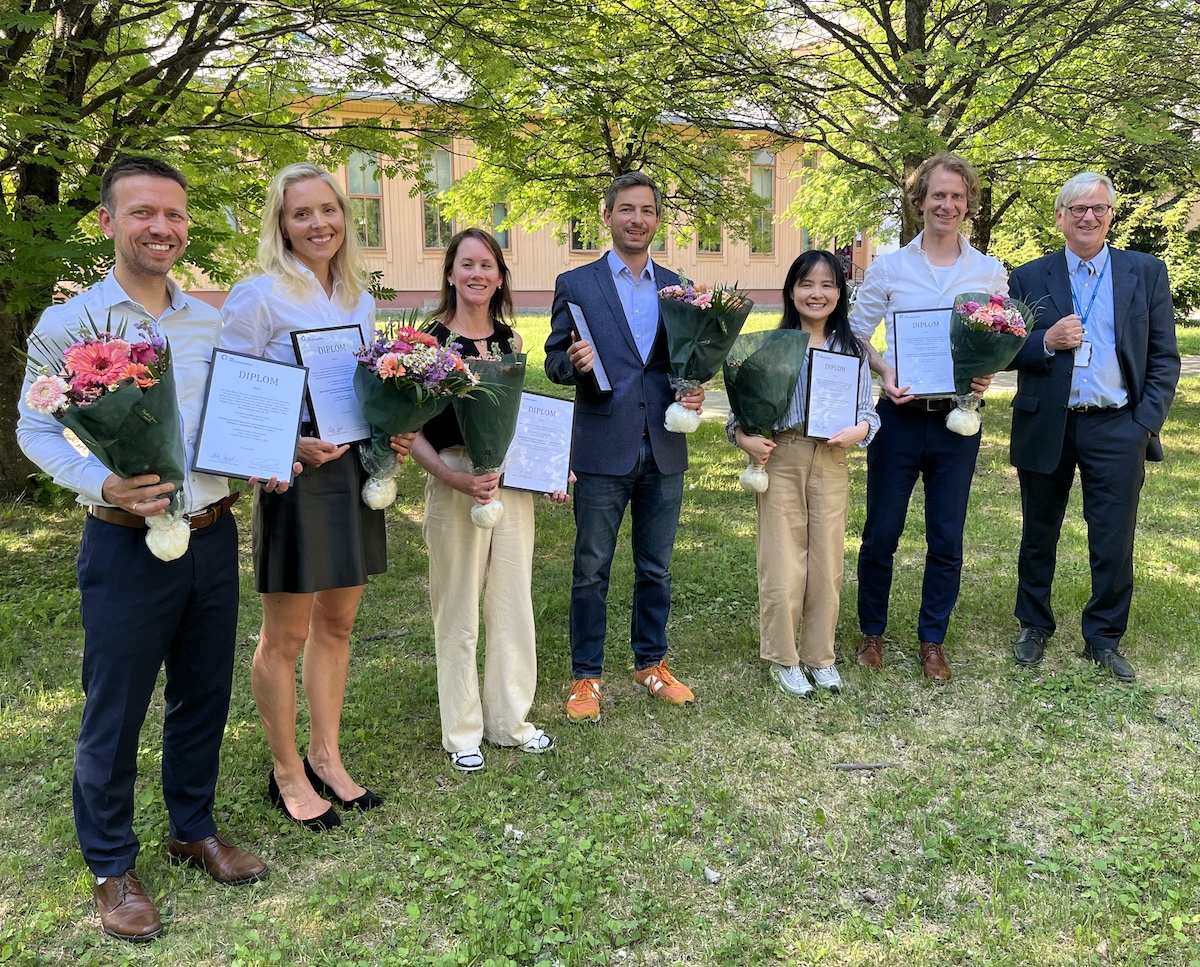 This year's winners:
The use of antibiotics in connection with prostate biopsies taken via the perineum does not reduce the risk of infection
Award winner: Maciej Jacewicz et al.
Research group: Prostate Cancer Research Group
Jacewicz M, Günzel K, Rud E, Sandbæk G, Magheli A, Busch J, Hinz S, Baco E (2022)
Antibiotic prophylaxis versus no antibiotic prophylaxis in transperineal prostate biopsies (NORAPP): a randomised, open-label, non-inferiority trial
Lancet Infect Dis, 22 (10), 1465-1471
DOI 10.1016/S1473-3099(22)00373-5, PubMed 35839791
---
The skin cells' impressive ability to regulate rest and activity
Award winner: Emma Lång et al.
Research group: Experimental Cancer Therapy
Lång E, Pedersen C, Lång A, Blicher P, Klungland A, Carlson A, Bøe SO (2022)
Mechanical coupling of supracellular stress amplification and tissue fluidization during exit from quiescence
Proc Natl Acad Sci U S A, 119 (32), e2201328119
DOI 10.1073/pnas.2201328119, PubMed 35914175
---
DNA methylation in brain tissue is associated with neuropathological changes in Lewy body diseases
Award winner: Lasse Pihlstrøm et al.
Research group: Huntington's disease and neurodegenerative genomics
Pihlstrøm L, Shireby G, Geut H, Henriksen SP, Rozemuller AJM, Tunold JA, Hannon E, Francis P, Thomas AJ, Love S, Mill J, van de Berg WDJ, Toft M (2022)
Epigenome-wide association study of human frontal cortex identifies differential methylation in Lewy body pathology
Nat Commun, 13 (1), 4932
DOI 10.1038/s41467-022-32619-z, PubMed 35995800
---
Functional profiling can stratify patients with chronic lymphocytic leukemia who respond or do not respond to treatment with PI3-kinase inhibitors
Award winner: Yanping Yin et al.
Research group: Functional precision medicine for haematologic cancers
Yin Y, Athanasiadis P, Karlsen L, Urban A, Xu H, Murali I, Fernandes SM, Arribas AJ, Hilli AK, Taskén K, Bertoni F, Mato AR, Normant E, Brown JR, Tjønnfjord GE, Aittokallio T, Skånland SS(2022)
Functional Testing to Characterize and Stratify PI3K Inhibitor Responses in Chronic Lymphocytic Leukemia
Clin Cancer Res, 28 (20), 4444-4455
DOI 10.1158/1078-0432.CCR-22-1221, PubMed 35998013
---
Quinolinic acid in spinal fluid is closely linked to delirium in hip fracture patients
Award winner: Leiv Otto Watne et al.
Research group: Oslo Delirium Research Group
Watne LO, Pollmann CT, Neerland BE, Quist-Paulsen E, Halaas NB, Idland AV, Hassel B, Henjum K, Knapskog AB, Frihagen F, Raeder J, Godø A, Ueland PM, McCann A, Figved W, Selbæk G, Zetterberg H, Fang EF, Myrstad M, Giil LM (2023)
Cerebrospinal fluid quinolinic acid is strongly associated with delirium and mortality in hip-fracture patients
J Clin Invest, 133 (2)
DOI 10.1172/JCI163472, PubMed 36409557
---
The prevalence and severity of arrhythmogenic right ventricular cardiomyopathy in childhood is underestimated
Award winner: Marit Kristine Smedsrud et al.
​Research group: PRECISE - Pediatric Research group for Epidemiology, Cardiology, Imaging, Signaling and Experimental studies
Smedsrud MK, Chivulescu M, Forså MI, Castrini I, Aabel EW, Rootwelt-Norberg C, Bogsrud MP, Edvardsen T, Hasselberg NE, Früh A, Haugaa KH (2022)
Highly malignant disease in childhood-onset arrhythmogenic right ventricular cardiomyopathy
Eur Heart J, 43 (45), 4694-4703
DOI 10.1093/eurheartj/ehac485, PubMed 36036653
---
News article, including popular science summaries of the findings and the committee's statements:
(in Norwegian, from www.oslo-universitetssykehus.no)
Priser til fremragende forskningsartikler publisert høsten 2022