Michael Bretthauer wins UEG Research Prize 2023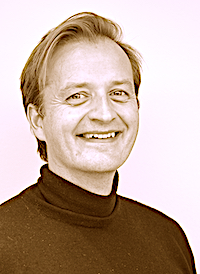 Professor and gastroenterologist Michael Bretthauer is awarded the United European Gastroenterology (UEG) Research Prize 2023, a prestigious honor given by the leading authority for gastroenterology and digestive health in Europe.
Michael Bretthauer is Professor of Medicine at the University of Oslo at the Clinical Effectiveness Research Group, and gastroenterologist at Oslo University Hospital. He is also an Associate Editor of Annals of Internal Medicine and chair of the Clinical Research Center, Department of Transplantation Medicine at Oslo University Hospital.
Michael Bretthauer's main clinical activities are in gastrointestinal endoscopy, especially in colonoscopy and colorectal cancer and polyps. He receives the prize on the basis of his long-time contribution of clinical evidence to the field. His main research interests include clinical trials and clinical epidemiology in gastroenterology. He is a lead investigator for several large-scale international clinical trials in colorectal cancer screening and surveillance, such as the Nordic-European Initiative on Colorectal Cancer and the European Polyp Surveillance trials. Michael Bretthauer has published more than 300 scientific articles and his current H-index for citation is 52.
Together with his wife Mette Kalager, an internationally recognized expert in medical decision making and clinical epidemiology, Michael Bretthauer has since 2012 built up an internationally competitive clinical research environment in Oslo, the Clinical Effectiveness Group. The group has today around 35 active members of academic faculty based in Europe and USA, PhD and post doc level scientists, clinicians, study nurses and support staff. The group and its partners are running clinical trials and epidemiology studies in gastroenterology across Scandinavia and Europe with altogether more than 400,000 enrolled patients.
Links:
Original news article from the home pages of the University of Oslo:
Michael Bretthauer wins UEG Research Prize 2023
Norwegian version, including interview with Bretthauer:
Michael Bretthauer tildeles prestisjetung europeisk forskningspris (med.uio.no)
Read more about the UEG Research Prize at UEG.eu
Michael Bretthauer (www.ous-research.no)
Mette Kalager (www.ous-research.no)
Clinical Effectiveness Research within Gastroenterology (ous-research.no)
Clinical Effectiveness Research (med.uio.no)
Department of Transplantation Medicine - research group overview (www.ous-research.no)