New mechanism for rare skin disorder discovered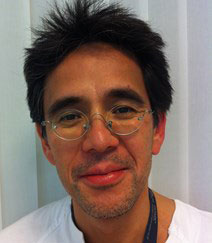 Norwegian scientists have found the genetic cause of the skin disease KWE (keratolytic winter erythema) - a rare autosomal-dominant skin disorder characterized by recurrent episodes of palmoplantar erythema and epidermal peeling, usually triggered by cold weather, moisture, or stress.
In an article recently published in the American Journal of Human Genetics (journal impact factor 10.8) it is concluded that KWE is caused by tandem duplications in a non-coding genomic region containing an active enhancer element for CTSB, a gene encoding cathepsin B, resulting in upregulation of the protein in affected individuals.
The article was selected as "Editors choice" in AJHG for the month of May.
Head physician and 2nd author of the paper Jan Cezary Sitek (photo) from the Dermatology Research Group at Oslo University Hospital initiated the research project six years ago, and treats several patients with KWE.
Links:

The article:
Duplicated Enhancer Region Increases Expression of CTSB and Segregates with Keratolytic Winter Erythema in South African and Norwegian Families.
Ngcungcu T, Oti M, Sitek JC, Haukanes BI, Linghu B, Bruccoleri R, Stokowy T, Oakeley EJ, Yang F, Zhu J, Sultan M, Schalkwijk J, van Vlijmen-Willems IMJJ, von der Lippe C, Brunner HG, Ersland KM, Grayson W, Buechmann-Moller S, Sundnes O, Nirmala N, Morgan TM, van Bokhoven H, Steen VM, Hull PR, Szustakowski J, Staedtler F, Zhou H, Fiskerstrand T, Ramsay M.
Am J Hum Genet. 2017 May 4;100(5):737-750. doi: 10.1016/j.ajhg.2017.03.012. Epub 2017 Apr 27.
PMID: 28457472
News article about the findings in Norwegian health newspaper "Dagens medisin":
Oppdaget ny mekanisme for hudsykdom


---
Dermatology Research Group home page