Oslo University Hospital honouring outstanding scientific work:
The 2016 Excellent Research Awards to PÃ¥l Aukrust, Therese Seierstad and Espen Melum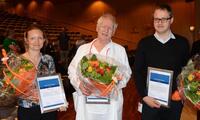 Excellent researchers 2016: Pål Aukrust (Excellent Researcher Award) (center) flanked by Therese Seierstad og Espen Melum (both Early Career Awards).(photo Børge Einrem)
Three scientists received awards for their outstanding research activities at a ceremony taking place at Oslo University Hospital May 27th.
The major prize - the "Excellent Researcher Award" - went to professor Pål Aukrust.
Therese Seierstad and Espen Melum both received the "Early Career Award".
The prize money - 300.000 and 150.000 NOK respectively - is earmarked for research activities. This prize is distributed anually in order to honour excellent scientific work.
The awarding process is organized by the hospital's research committee (Forskningsutvalget), while an external Scientific Advisory Board has evaluated the candidates.


About this year's award winners:
Excellent Research Award
Pål Aukrust
Professor and leader of the Section of Inflammatory Research at the Research Institute of Internal Medicine (RIIM) and head of department at the Section for Clinical Immunology and Infectious Diseases at the Department of Rheumatology, Skin and Infectious Diseases
Jury statement:
Pål Aukrust is a true academician who has reached excellence clinically and scientifically. He is a fine teacher and has as a mentor been responsible for more than 25 PhD students. He has established competent research groups within the dynamic scientific field of inflammation and immunological mechanisms in cardiovascular diseases. Pål Aukrust has also important scientific contributions in the fields of DNA repair and Oxidative stress. He is a dynamic leader with a capacity to lift others.
Pål Aukrust's mini CV and publication list


Early Career Awards
Espen Melum
senior scientist at the Research Institute of Internal Medicine (RIIM) and the Norwegian PSC Research Center (primary sclerosing cholangitis).
Jury statement:
Espen Melum has already at the start of his medical education shown an interest in medical sciences and academia. After his PhD, in 2010, at The Faculty of Medicine, University of Oslo, he spent almost two years in Richard Blumbergs laboratory at Harvard Medical School/Brigham and Women´s Hospital. A time well used with high profile publications. He is a scientific leader and has established his own research group which is well funded from external resources. In addition to his research activities he is also well on his way to a clinical specialization.

Espen Melum's mini CV and publications


Therese Seierstad
Head of research, Division og Radiology and Nuclear Medicine

Jury statement:
Therese Seierstad completed her PhD in 2008 in the field of functional magnetic resonance imaging related to colorectal cancer. Therese Seierstad has also carried out interesting comparisons of functional imaging techniques such as MRI and PET. She has been organizing and designing several clinical trials and the focus of her clinical research has been detection, prediction and follow-up of treatment responses.

Therese Seierstad's publications
---
News article (in Norwegian) (from oslo-universitetssykehus.no), where the award winners answer questions about their current research and how their findings may be of benefit for patients: