The Oslo University Hospital-led EU-SolidAct is the first clinical trial to be submitted to CTIS
Through excellent collaboration internally as well as with authorities and external partners, OUS again demonstrates that academic trials can be managed with tight timelines.
The newly established Clinical Trials Information System (CTIS) is a communication portal supporting clinical trial applications and the flow of information between clinical trial sponsors, European Union (EU) Member States, European Economic Area (EEA) countries and the European Medicines Agency. CTIS went live on January 31 2022, and was created to support the new Clinical Trials Regulation that went into effect on the same date.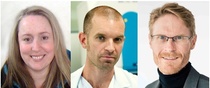 The international multi-center study EU-SolidAct, led by OUH, became the first study to submit an application in CTIS. The OUS-team with core roles in this achievement consists of research coordinator Thale Patrick-Brown and principal investigator Marius Trøseid, both from the Department of Rheumatology, Dermatology and Infectious Diseases, and Inge C. Olsen from the Department of Research Support for Clinical Trials (CTU), who is head of operations.
Both departments were involved when in the spring of 2020, OUS on record time prepared and was able to recruit the first patient in the WHO-Solidarity trial, a large international trial to find effective treatments against covid-19.
EU-SolidAct was already approved by the EU before the new regulation was implemented, and wanted to submit its next arm following the new legislation. For that to happen, the study needed to be "migrated" into CTIS, i.e. the study documentation needed to be uploaded onto CTIS, a process which requires a formal ok from all involved countries to be completed. As it turned out, the ethics committee approval was still pending in one country, leading to a formal rejection of the entire application. The study was then also the first to be rejected in CTIS. The study team will resubmit as soon as the missing local approvals are in place.
Link:
News article from ous-research.no about the start-up of EU-SolidAct:
Oslo University Hospital and the Norwegian Institute for Public Health to co-lead international collaboration on clinical trials for Covid-19 and future pandemics