Ceremony November 25th Dr Ragnar Mørk´s Prize for excellent cancer research 2022 to Marina Vietri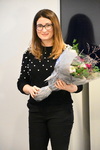 Marina Vietri from the Department of Molecular Cell Biology is this year's winner of the prestigious Dr. Ragnar Mørk's Prize for cancer research.
She has won the award of NOK 200.000 for her pioneering studies of nuclear envelope sealing in genome integrity and cancer progression.
The prize ceremony took place on 25th of November in the Auditorium of Institute for Cancer Research.
Earlier this year Marina Vietri was awarded the NFR Young Research Talent grant.