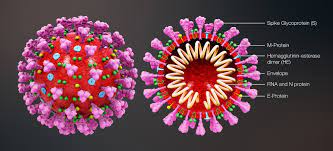 Introduction
As the Covid-19 pandemic hit Norway in the march 2020 the health authorities dedicated funds to increase research on the topic. Since the testing strategy for Sars-Cov-2 virus had been established by cDNA synthesis from virus RNA and detection by Taqman PCR the need for chemistry was evident. Furthermore, a supply shortage from commercial sources was observed. Thus, if in-house enzyme, reverse transcriptase and Taq polymerase could be produced and tested, that could potentially be beneficial.
Primers and probes published from different labs was extracted from the World Health Organization (WHO) webpage and used for testing of in-house chemistry. Several assays that detect the 2019-nCoV have been development. Some assays may detect only the novel virus and some may also detect other strains (e.g. SARS-CoV) that are genetically similar. Common for the assays were the detection method by rtPCR with "Syber Green" or with TaqMan probe.
Molecular assays to diagnose 2019-nCoV
Links and primer "name"
Annealing
Primer set #

"Forward"

"Reverse"

"Probe"

Reporter dye
5' - 3'
Quencher
Source
ORF1ab
ORF1ab(F)
1
F
CCCTGTGGGTTTTACACTTAA
ORF1ab(R)
1
R
ACGATTGTGCATCAGCTGA
ORF1ab(P)
1
P
FAM-
CCGTCTGCGGTATGTGGAAAGGTTATGG
BHQ1
N-gene
N(F)
2
F
GGGGAACTTCTCCTGCTAGAAT
N(R)
2
R
CAGACATTTTGCTCTCAAGCTG
N(P)
2
P
FAM-
TTGCTGCTGCTTGACAGATT
TAMRA
Source
RdRP_SARSr-F2
58°C
3
F
GTGARATGGTCATGTGTGGCGG
RdRP_SARSr-R1
3
R
CARATGTTAAASACACTATTAGCATA
RdRP_SARSr-P2
3
P
FAM-
CAGGTGGAACCTCATCAGGAGATGC
BBQ
RdRP_SARSr-P1
3
P
FAM-
CCAGGTGGWACRTCATCMGGTGATGC
BBQ
E_Sarbeco_F1
4
F
ACAGGTACGTTAATAGTTAATAGCGT
E_Sarbeco_R2
4
R
ATATTGCAGCAGTACGCACACA
E_Sarbeco_P1
4
P
FAM-
ACACTAGCCATCCTTACTGCGCTTCG
BBQ
Source
Assay 1 (Target: ORF1b-nsp14)
(HKU-ORF1b-nsp14F):
5
F
TGGGGYTTTACRGGTAACCT
(HKU-ORF1b-nsp14R):
5
R
AACRCGCTTAACAAAGCACTC
(HKU-ORF1b-nsp141P):
5
P
FAM-
TAGTTGTGATGCWATCATGACTAG
TAMRA
Assay 2 (Target: N)
(HKU-NF)
6
F
TAATCAGACAAGGAACTGATTA
(HKU-NR)
6
R
CGAAGGTGTGACTTCCATG
Probe (HKU-NP):
6
P
FAM-
GCAAATTGTGCAATTTGCGG
TAMRA
Source
WH-NIC N-F
7
F
CGTTTGGTGGACCCTCAGAT
WH-NIC N-R
7
R
CCCCACTGCGTTCTCCATT
WH-NIC N-P
7
P
FAM-
CAACTGGCAGTAACCA
BHQ1
Source
ORF1a set
NIID_WH-1_F501
60°C
8
F
TTCGGATGCTCGAACTGCACC
NIID_WH-1_R913
8
R
CTTTACCAGCACGTGCTAGAAGG
NIID_WH-1_F509
60°C
9
F
CTCGAACTGCACCTCATGG
NIID_WH-1_R854
9
R
CAGAAGTTGTTATCGACATAGC
NIID_WH-1_Seq_F519
60°C
10
F
ACCTCATGGTCATGTTATGG
NIID_WH-1_Seq_R840
10
R
GACATAGCGAGTGTATGCC
S set
WuhanCoV-spk1-f
60°C
11
F
TTGGCAAAATTCAAGACTCACTTT
WuhanCoV-spk2-r
11
R
TGTGGTTCATAAAAATTCCTTTGTG
NIID_WH-1_F24381
60°C
12
F
TCAAGACTCACTTTCTTCCAC
NIID_WH-1_R24873
12
R
ATTTGAAACAAAGACACCTTCAC
NIID_WH-1_Seq_F24383
60°C
13
F
AAGACTCACTTTCTTCCACAG
NIID_WH-1_Seq_R24865
13
R
CAAAGACACCTTCACGAGG
NIID_2019-nCOV_N_F2
60°C
14
F
AAATTTTGGGGACCAGGAAC
NIID_2019-nCOV_N_R2
14
R
TGGCAGCTGTGTAGGTCAAC
NIID_2019-nCOV_N_P2
14
P
FAM-
ATGTCGCGCATTGGCATGGA
Source
2019-nCoV_N1-F
55°C
15
F
GACCCCAAAATCAGCGAAAT
2019-nCoV_N1-R
15
R
TCTGGTTACTGCCAGTTGAATCTG
2019-nCoV_N1-P
15
P
FAM-
ACCCCGCATTACGTTTGGTGGACC
BHQ1
2019-nCoV_N2-F
55°C
16
F
TTACAAACATTGGCCGCAAA
2019-nCoV_N2-R
16
R
GCGCGACATTCCGAAGAA
2019-nCoV_N2-P
16
P
FAM-
ACAATTTGCCCCCAGCGCTTCAG
BHQ1
2019-nCoV_N3-F
55°C
17
F
GGGAGCCTTGAATACACCAAAA
2019-nCoV_N3-R
17
R
TGTAGCACGATTGCAGCATTG
2019-nCoV_N3-P
17
P
FAM-
AYCACATTGGCACCCGCAATCCTG
BHQ1
RNAse-RP-F
55°C
18
F
AGATTTGGACCTGCGAGCG
RNAse-RP-R
18
R
GAGCGGCTGTCTCCACAAGT
RNAse-RP-P
18
P
FAM-
TTCTGACCTGAAGGCTCTGCGCG
BHQ1
Source
RdRp gene/nCov_IP2
nCoV_IP2-12669Fw
58°C
19
F
ATGAGCTTAGTCCTGTTG
nCoV_IP2-12759Rv
19
R
CTCCCTTTGTTGTGTTGT
nCoV_IP2-12696bProbe(+)
19
P
HEX-
AGATGTCTTGTGCTGCCGGTA
BHQ1
RdRp
nCoV_IP4-14059Fw
58°C
20
F
GGTAACTGGTATGATTTCG
nCoV_IP4-14146Rv
20
R
CTGGTCAAGGTTAATATAGG
nCoV_IP4-14084Probe(+)
20
P
FAM-
TCATACAAACCACGCCAGG
BHQ1
E_gene / E_Sarbeco
E_Sarbeco_F1
58°C
21
F
ACAGGTACGTTAATAGTTAATAGCGT
E_Sarbeco_R2
21
R
ATATTGCAGCAGTACGCACACA
E_Sarbeco_P1
21
P
FAM-
ACACTAGCCATCCTTACTGCGCTTCG
BHQ1
Location of primers
The location of the primers and probes are mapped with https://www.bioinformatics.org/sms2/primer_map.html and can be viewed in this PDF. Some of the primers in the table above does not match the NCBI Reference Sequence: NC_045512.2
Link description
Molecular assays to diagnose 2019-nCoV
https://www.who.int/docs/default-source/coronaviruse/whoinhouseassays.pdf?sfvrsn=de3a76aa_2
Several assays that detect the 2019-nCoV have been and are currently under development, both in-house and commercially. Some assays may detect only the novel virus and some may also detect other strains (e.g. SARS-CoV) that are genetically similar.
China CDC, China, National Institute for viral desease control and prevention
http://ivdc.chinacdc.cn/kyjz/202001/t20200121_211337.html
Victor Corman, Tobias Bleicker, Sebastian Brünink, Christian Drosten Charité Virology, Berlin, Germany
https://www.who.int/docs/default-source/coronaviruse/protocol-v2-1.pdf?sfvrsn=a9ef618c_2
School of Public Health, The University of Hong Kong, Hong Kong
https://www.who.int/docs/default-source/coronaviruse/peiris-protocol-16-1-20.pdf?sfvrsn=af1aac73_4
Department of Medical Sciences, Ministry of Public Health, Thailand.
https://www.who.int/docs/default-source/coronaviruse/conventional-rt-pcr-followed-by-sequencing-for-detection-of-ncov-rirl-nat-inst-health-t.pdf?sfvrsn=42271c6d_4
National Institute of Infectious Diseases, Japan
https://www.who.int/docs/default-source/coronaviruse/method-niid-20200123-2.pdf?sfvrsn=fbf75320_7
DEPARTMENT OF HEALTH & HUMAN SERVICES, Centers for Disease Control and Prevention (CDC), USA
https://www.who.int/docs/default-source/coronaviruse/uscdcrt-pcr-panel-primer-probes.pdf?sfvrsn=fa29cb4b_2
Institut Pasteur, Paris, France
https://www.who.int/docs/default-source/coronaviruse/real-time-rt-pcr-assays-for-the-detection-of-sars-cov-2-institut-pasteur-paris.pdf?sfvrsn=3662fcb6_2