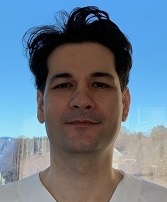 Mazyar Yazdani
Education
Affiliation
– Associated member of:
Research Summary
Dr. Yazdani began his research career with studying the toxic mechanisms of action of hazardous substances, particularly oxidative stress induction. He later linked it to pathophysiology of dry eye disease and treatment of limbal stem cell deficiency. Currently, as a member of Metabolomics & Metabolic Molecular Biology group, he is investigating the metabolic changes of rare diseases (e.g., inborn errors of metabolism). The main goal is to better understand the underlying mechanisms using mass spectrometry-based metabolomics.
Recent funding: Co-writer of a granted PhD fellowship with a group at Oslo Metropolitan University (March 2021).
On the News: Co-writer of a report for VG Newspaper on Eyelash Growth Serums (March 2021).
Work Experience
Links
NB: Check out our NEWS PAGE for the latest!
Publications 2021
Yazdani M, Fiskådal J, Chen X, Utheim ØA, Ræder S, Vitelli V, Utheim TP (2021)
Tear Film Break-Up Time and Dry Eye Disease Severity in a Large Norwegian Cohort
J Clin Med, 10 (4)
DOI 10.3390/jcm10040884, PubMed 33671667
Publications 2020
Gautvik KM, Günther CC, Prijatelj V, Medina-Gomez C, Shevroja E, Rad LH, Yazdani M, Lindalen E, Valland H, Gautvik VT, Olstad OK, Holden M, Rivadeneira F, Utheim TP, Reppe S (2020)
Distinct Subsets of Noncoding RNAs Are Strongly Associated With BMD and Fracture, Studied in Weight-Bearing and Non-Weight-Bearing Human Bone
J Bone Miner Res, 35 (6), 1065-1076
DOI 10.1002/jbmr.3974, PubMed 32017184
Tashbayev B, Utheim TP, Utheim ØA, Ræder S, Jensen JL, Yazdani M, Lagali N, Vitelli V, Dartt DA, Chen X (2020)
Utility of Tear Osmolarity Measurement in Diagnosis of Dry Eye Disease
Sci Rep, 10 (1), 5542
DOI 10.1038/s41598-020-62583-x, PubMed 32218518
Tashbayev B, Yazdani M, Arita R, Fineide F, Utheim TP (2020)
Intense pulsed light treatment in meibomian gland dysfunction: A concise review
Ocul Surf, 18 (4), 583-594
DOI 10.1016/j.jtos.2020.06.002, PubMed 32629039
Yazdani M, Shahdadfar A, Reppe S, Sapkota D, Vallenari EM, Lako M, Connon CJ, Figueiredo FC, Utheim TP (2020)
Response of human oral mucosal epithelial cells to different storage temperatures: A structural and transcriptional study
PLoS One, 15 (12), e0243914
DOI 10.1371/journal.pone.0243914, PubMed 33326470
Publications 2019
Yazdani M, Chen X, Tashbayev B, Utheim ØA, Ræder S, Hua Y, Eidet JR, Stojanovic A, Dartt DA, Utheim TP (2019)
Evaluation of the Ocular Surface Disease Index Questionnaire as a Discriminative Test for Clinical Findings in Dry Eye Disease Patients
Curr Eye Res, 44 (9), 941-947
DOI 10.1080/02713683.2019.1604972, PubMed 30955380
Yazdani M, Elgstøen KBP, Rootwelt H, Shahdadfar A, Utheim ØA, Utheim TP (2019)
Tear Metabolomics in Dry Eye Disease: A Review
Int J Mol Sci, 20 (15)
DOI 10.3390/ijms20153755, PubMed 31374809
Yazdani M, Shahdadfar A, Jackson CJ, Utheim TP (2019)
Hyaluronan-Based Hydrogel Scaffolds for Limbal Stem Cell Transplantation: A Review
Cells, 8 (3)
DOI 10.3390/cells8030245, PubMed 30875861
Yazdani M, Shahdadfar A, Jackson CJ, Utheim TP (2019)
A Hyaluronan Hydrogel Scaffold for Culture of Human Oral Mucosal Epithelial Cells in Limbal Stem-Cell Therapy
Bioengineering (Basel), 6 (4)
DOI 10.3390/bioengineering6040097, PubMed 31652804
Publications 2018
Yazdani M (2018)
Comparative toxicity of selected PAHs in rainbow trout hepatocytes: genotoxicity, oxidative stress and cytotoxicity
Drug Chem Toxicol, 43 (1), 71-78
DOI 10.1080/01480545.2018.1497054, PubMed 30246564
Yazdani M, Chen X, Tashbayev B, Utheim ØA, Ræder S, Lagali N, Stojanovic A, Dartt DA, Utheim TP (2018)
Tear Production Levels and Dry Eye Disease Severity in a Large Norwegian Cohort
Curr Eye Res, 43 (12), 1465-1470
DOI 10.1080/02713683.2018.1514055, PubMed 30183390
Publications 2016
Gábelová A, El Yamani N, Alonso TI, Buliaková B, Srančíková A, Bábelová A, Pran ER, Fjellsbø LM, Elje E, Yazdani M, Silva MJ, Dušinská M (2016)
Fibrous shape underlies the mutagenic and carcinogenic potential of nanosilver while surface chemistry affects the biosafety of iron oxide nanoparticles
Mutagenesis, 32 (1), 193-202
DOI 10.1093/mutage/gew045, PubMed 27658822
Yazdani M (2016)
Technical aspects of oxygen level regulation in primary cell cultures: A review
Interdiscip Toxicol, 9 (3-4), 85-89
DOI 10.1515/intox-2016-0011, PubMed 28652851
Yazdani M, Andresen AM, Gjøen T (2016)
Short-term effect of bisphenol-a on oxidative stress responses in Atlantic salmon kidney cell line: a transcriptional study
Toxicol Mech Methods, 26 (4), 295-300
DOI 10.1080/15376516.2016.1177864, PubMed 27117342
Yazdani M, Hylland K (2016)
A Kinetic Study of Reactive Oxygen Species in Rainbow Trout Hepatocytes by Fluorometry
J Environ Pathol Toxicol Oncol, 35 (4), 291-297
DOI 10.1615/JEnvironPatholToxicolOncol.2016016184, PubMed 27992310
Publications 2015
Yazdani M (2015)
Concerns in the application of fluorescent probes DCDHF-DA, DHR 123 and DHE to measure reactive oxygen species in vitro
Toxicol In Vitro, 30 (1 Pt B), 578-82
DOI 10.1016/j.tiv.2015.08.010, PubMed 26318276
Publications 2014
Yazdani M, Paulsen RE, Gjøen T, Hylland K (2014)
Reactive oxygen species and cytotoxicity in rainbow trout hepatocytes: effects of medium and incubation time
Bull Environ Contam Toxicol, 94 (2), 193-8
DOI 10.1007/s00128-014-1433-0, PubMed 25432295
Publications 2013
Mathisen GH, Yazdani M, Rakkestad KE, Aden PK, Bodin J, Samuelsen M, Nygaard UC, Goverud IL, Gaarder M, Løberg EM, Bølling AK, Becher R, Paulsen RE (2013)
Prenatal exposure to bisphenol A interferes with the development of cerebellar granule neurons in mice and chicken
Int J Dev Neurosci, 31 (8), 762-9
DOI 10.1016/j.ijdevneu.2013.09.009, PubMed 24091367
Publications 2011
Ellesat KS, Yazdani M, Holth TF, Hylland K (2011)
Species-dependent sensitivity to contaminants: an approach using primary hepatocyte cultures with three marine fish species
Mar Environ Res, 72 (4), 216-24
DOI 10.1016/j.marenvres.2011.09.003, PubMed 21963059
Yap CK, Yazdani M, Abdullah F, Tan SG (2011)
Is the high Cu tolerance of Trichoderma atroviride isolated from the Cu-polluted sediment due to adaptation? An in vitro toxicological study
Journal of Sains Malaysiana , 40 (2), 119-124
PublikaID 362
Publications 2010
Yap CK, Fitri M, Yazdani M, Tan SG (2010)
Effects of the metal contaminated soils on the accumulation of heavy metals in the different parts of Centella asiatica: A laboratory study
Journal of Sains Malaysiana, 39 (3), 347-352
PublikaID 360
Yazdani M, Yap CK, Abdullah F, Tan SG (2010)
An in vitro study on the adsorption, absorption and uptake capacity of Zn by using the bioremediator Trichoderma atroviride
EnvironmentAsia, 3 (1), 53-59
PublikaID 361
Publications 2009
Yap CK, Yazdani M (2009)
The identification of point sources in a river receiving industrial metal effluents at the Serdang industrial area, Selangor
Sustainability Science and Management, 4 (2), 18-26
PublikaID 358
Yazdani M, Yap CK, Abdullah F, Tan SG (2009)
Trichoderma atroviride as a bioremediator of Cu pollution: An in vitro study
Toxicological & Environmental Chemistry , 91 (7), 1305-1314
PublikaID 359