Analysis of alternative matrices
In forensic toxicology, analysis of whole blood represents the "gold standard" as concentrations in this medium allows for evaluation of influence and intoxication. In cases where drug use is the issue, e.g. for the prison and probation services, urine is the standard medium. In some cases other matrices can be a better choice. Oral fluid can be sampled under surveillance without the invasion of privacy needed for urine sampling, and hair can uncover long term use of drugs. Dried blood spots is another alternative for less invasive sample collection. In autopsy cases where whole blood is not available due to e.g. severe blood loss or burns, matrices such as pericardial fluid, muscle or vitreous humour could be alternatives.
In the Forensic Analytical Toxicology research group we have worked with oral fluid since the 90's, and work on extending our methods for hair and autopsy matrices. Our research does in addition include work with other alternative matrices such as faeces and dried blood.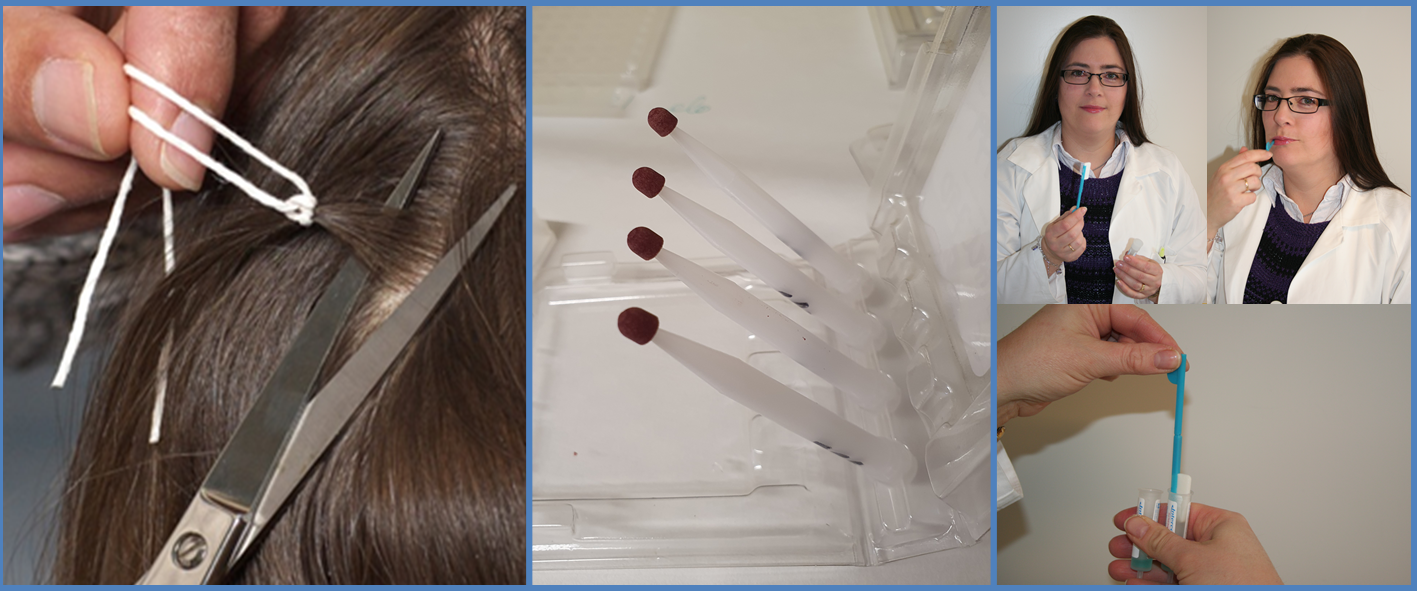 Photo: Hair sampling (left panel), dried blood samples collected with volumetric absorptive microsampling, VAMS (middle panel), oral fluid sampling (right panel). ©Division of Forensic Sciences, Oslo University Hospital
Ongoing projects
Sensitivity of hair THC-COOH to detect chronic cannabis use, and quantitative relation to self-reported frequency of cannabis use
The purpose is to investigate if analysis of THC-COOH (carboxy-THC) in hair is suitable for detecting chronic cannabis use, and whether the concentrations is related to intensity of consumption. Analyses of THC-COOH in hair might in the future be an alternative to urine testing for cannabis, with advantages such as easy sampling, longer detection window and lower cost. Sampling is finished, and analyses are ongoing.
Development of a UHPLC-MS/MS method for determination of GHB in oral fluid
In collaboration with the hospitals Acute Medicines Research Group and our department's research group for Substance Use and Health Outcomes, we have developed a method for analysis of GHB in oral fluid. Although a few other methods for analysis of GHB in oral fluid exist, this is to our knowledge the first high throughput method developed. In addition to GHB the method includes the GHB precursors GBL and 1,4 DB as well as the medicinal drug pregabaline.
Stability of different drugs in several alternative post-mortem matrices
As a part of the project Comparative study of different drugs in several alternative post-mortem matrices the stability of opioids, benzodiazepines and z-hypnotics in six different autopsy matrices have been explored. Reanalysis of samples kept in the freezer for up to 5 years have been performed, and data evaluation is ongoing.
Analysis of dried blood samples
Volumetric absorptive micro samplers (VAMS) can be used to sample dried blood with fewer problems with different blood spot size due to different haematocrit values, than regular dried blood spots. The use of dried blood as a sampling medium could provide an alternative in cases where blood is difficult to obtain. A method for several drugs of abuse in volumetric absorptive micro samplers (VAMS) has been developed, and a method for methadone and buprenorphine in blood from rodents is under development in collaboration with the group for Experimental Drug Abuse Research.
Past projects
Analysis of rodenticides in faeces
The project has been a collaboration with the Poison information Centre and the Veterinary Institute, to use faeces as an alternative matrix to evaluate rodenticide exposure.
Oral fluid analysis and comparison to other media
Several methods for analysis of drugs of abuse in oral fluid have been developed, and comparison of detection times found for oral fluid and whole blood or urine has been performed.
Development of methods for hair analysis
Methods for analysis of drugs of abuse and the alcohol metabolite EtG using UHPLC-MS/MS have been developed, as well as a GC-MS/MS method for THC-acid. An ongoing project studies THC-acid use for chronical users.
Collaboration
Stig Pedersen-Bjergaard (professor), Department of Pharmacy, University of Oslo, Norway
Kristin Opdal Seljetun (senior advisor/veterinarian), Norwegian Poison Information Centre, Norwegian Institute of Public Health, Norway
Lars Moe (professor), Faculty of Veterinary Medicine, Norwegian University of Life Sciences, Norway
Marilyn Huestis (professor), Institute of Emerging Health Professions, Thomas Jefferson University, USA
If you have questions about the projects or suggestions for research collaboration, please contact: Elisabeth Leere Øiestad (rmeloi@ous-hf.no) at the Department of Forensic Sciences, Oslo University Hospital, Oslo, Norway.
Publications
Mestad IO, Gjelstad A, Pedersen-Bjergaard S, Oiestad EL(2021)
Green and sustainable drug analysis-Combining microsampling and microextraction of drugs of abuse
Sustain, Chem. Pharm, 24, 100517
DOI 1016/j.scp.2021.100517
Pettersen S, Øiestad ÅML, Rogde S, Brochmann GW, Øiestad EL, Vindenes V(2021)
Distribution of tetrahydrocannabinol and cannabidiol in several different postmortem matrices
Forensic Sci Int, 329, 111082
DOI 1016/j.forsciint.2021.111082, PubMed 34775328
Bakke E, Høiseth G, Furuhaugen H, Berg T, Arnestad M, Gjerde H(2020)
Oral Fluid to Blood Concentration Ratios of Different Psychoactive Drugs in Samples from Suspected Drugged Drivers
Ther Drug Monit, 42 (5), 795-800
DOI 1097/FTD.0000000000000760, PubMed 32251151
Seljetun KO, Sandvik M, Vindenes V, Eliassen E, Øiestad EL, Madslien K, Moe L (2020)
Comparison of anticoagulant rodenticide concentrations in liver and feces from apparently healthy red foxes
J Vet Diagn Invest, 32 (4), 560-564
DOI 10.1177/1040638720927365, PubMed 32476615
Seljetun KO, Vindenes V, Øiestad EL, Brochmann GW, Eliassen E, Moe L (2020)
Determination of anticoagulant rodenticides in faeces of exposed dogs and in a healthy dog population
Acta Vet Scand, 62 (1), 30
DOI 10.1186/s13028-020-00531-5, PubMed 32546243
Bakke E, Høiseth G, Arnestad M, Gjerde H(2019)
Detection of Drugs in Simultaneously Collected Samples of Oral Fluid and Blood
J Anal Toxicol, 43 (3), 228-232
DOI 1093/jat/bky079, PubMed 30295809
Oiestad EL, Krabseth HM, Huestis MA, Skulberg A, Vindenes V (2019)
Interpreting oral fluid drug results in prisoners: monitoring current drug intake and detection times for drugs self-administered prior to detention
Forensic Toxicol., 37 (1), 59-74
DOI 10.1007/s11419-018-0434-9
Seljetun KO, Eliassen E, Madslien K, Viljugrein H, Vindenes V, Øiestad EL, Moe L (2019)
Prevalence of Anticoagulant Rodenticides in Feces of Wild Red Foxes (Vulpes Vulpes) in Norway Prevalence of anticoagulant rodenticides in feces of wild red foxes (vulpes vulpes) in Norway.
J Wildl Dis, 55 (4), 834-843
DOI 7589/2019-01-027, PubMed 31112468
Bruun LD, Kjeldstadli K, Temte V, Birdal M, Bachs L, Langødegård M, Strand DH, Gaare KI, Øiestad E, Høiseth G(2019)
Detection Time of Oxazepam and Zopiclone in Urine and Oral Fluid after Experimental Oral Dosing
J Anal Toxicol, 43 (5), 369-377
DOI 1093/jat/bky083, PubMed 30615130
Strand MC, Ramaekers JG, Gjerde H, Mørland J, Vindenes V(2019)
Pharmacokinetics of Single Doses of Methadone and Buprenorphine in Blood and Oral Fluid in Healthy Volunteers and Correlation With Effects on Psychomotor and Cognitive Functions
J Clin Psychopharmacol, 39 (5), 489-493
DOI 1097/JCP.0000000000001077, PubMed 31305338
Temte V, Kjeldstadli K, Bruun LD, Birdal M, Bachs L, Karinen R, Middelkoop G, Øiestad E, Høiseth G(2019)
An Experimental Study of Diazepam and Alprazolam Kinetics in Urine and Oral Fluid Following Single Oral Doses
J Anal Toxicol, 43 (2), 104-111
DOI 1093/jat/bky062, PubMed 30517712
Høiseth G, Arnestad M, Karinen R, Morini L, Rogde S, Sempio C, Vindenes V, Øiestad ÅML (2018)
Is Hair Analysis Useful in Postmortem Cases?
J Anal Toxicol, 42 (1), 49-54
DOI 1093/jat/bkx077, PubMed 28977558
Øiestad ÅML, Karinen R, Rogde S, Nilsen S, Boye Eldor KB, Brochmann GW, Arnestad M, Øiestad EL, Peres MD, Kristoffersen L, Vindenes V(2018)
Comparative Study of Postmortem Concentrations of Antidepressants in Several Different Matrices
J Anal Toxicol, 42 (7), 446-458
DOI 1093/jat/bky030, PubMed 29762694
Seljetun KO, Eliassen E, Karinen R, Moe L, Vindenes V(2018)
Quantitative method for analysis of six anticoagulant rodenticides in faeces, applied in a case with repeated samples from a dog
Acta Vet Scand, 60 (1), 3
DOI 1186/s13028-018-0357-9, PubMed 29343296
Thaulow CH, Øiestad ÅML, Rogde S, Andersen JM, Høiseth G, Handal M, Mørland J, Vindenes V(2018)
Can measurements of heroin metabolites in post-mortem matrices other than peripheral blood indicate if death was rapid or delayed?
Forensic Sci Int, 290, 121-128
DOI 1016/j.forsciint.2018.06.041, PubMed 30015276
Ask KS, Øiestad EL, Pedersen-Bjergaard S, Gjelstad A(2018)
Dried blood spots and parallel artificial liquid membrane extraction-A simple combination of microsampling and microextraction
Anal Chim Acta, 1009, 56-64
DOI 1016/j.aca.2018.01.024, PubMed 29422132
Fosen JT, Morini L, Sempio C, Giarratana N, Enger A, Mørland J, Høiseth G (2017)
Ethyl Glucuronide Elimination Kinetics in Fingernails and Comparison to Levels in Hair
Alcohol Alcohol, 52 (5), 580-586
DOI 10.1093/alcalc/agx035, PubMed 28591773