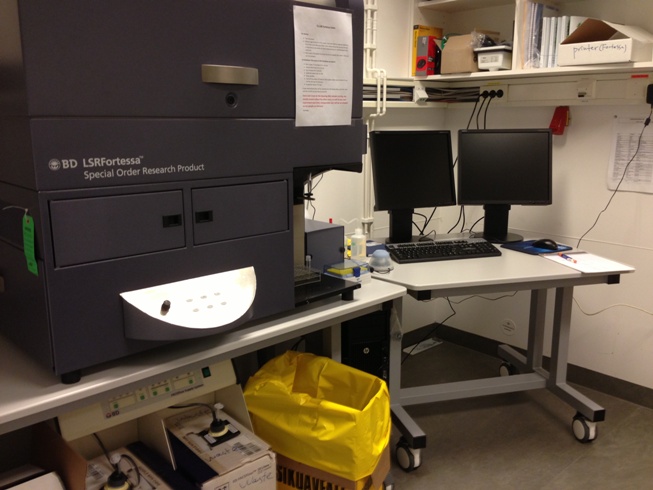 The BD LSRFortessa™ cell analyzer has 4 lasers that can detect up to 18 colors simultaneously. Blue, Green, red and violet—which provides a flexibility in laser wavelengths so assay design can be optimized using the latest fluorescent dyes and substrates.
The optics system consists of laser excitation optics that illuminate cells in the sample, and collection optics that direct light scatter and fluorescence signals through spectral filters to detectors. Innovative designs for both the excitation optics and collection optics in BD LSRFortessa systems reduce excitation losses and optimize collection efficiency for increased sensitivity and resolution.
About the detectors, there are three octagons for the blue, violet and yellow/green lasers, and a trigon for the red laser.
Access:
Trained users may use the Fortessa without Core Facility supervision. Users may sign up on the booking website. Booking for trained users at https://ous-research-web.uio.no/booking/
Location is at room A3.M047.
Training course:
Training can be set up for interested users after appointment. For all training, choose the ''Practical Training'' in the booking schedule.
Fees for using analysis flowcytometers
Analysis (DIY):
OUS/UiO users: 100 kr/h
Academic users outside OUS: 150kr/h
Commercial users: 300kr/h
Assistet Sample Running: 1500 kr/h
Practical Training: 600 kr/h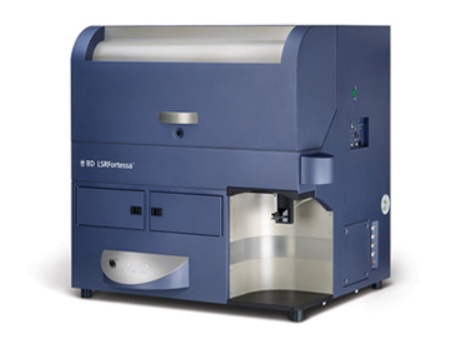 Optics & Fluorochromes for Fortessa
Laser

(Excitation)

PMT (FL)

BP Filter

(Emission)

LP

Fluorochromes

Blue laser

488 nm

A

710/50

685

Percp-Cy5.5, eFluro 710, Pe-Cy5

B

530/30

505

FITC, Alexa 488, GFP,SYTOXGreen,YFP

C

SSC

488/10

SSC

D

E

F

G

H

Yellow/

Green Laser

561 nm

A

780/60

750

Pe-Cy7

B

710/50

685

Percp-Cy5.5, eFluro 710, Pe-Cy5.5

C

670/30

635

Pe-Cy5

D

610/20

600

PI, Texas-Red, mCherry

E

585/15

PE, DsRed

F

G

H

Violet Laser

405 nm

A

670/30

630

Qdot 655

B

610/20

600

Qdot 605, Qdot 625

C

585/15

570

Qdot 585

D

540/30

535

Qdot 565, Pacific Orange

E

525/50

505

Alexa 430, Cascade Yellow, AmCyan,V 500 , DAPI

F

450/50

Pacific Blue, Hoechst, Alexa 405, V450, Cascade Blue, BD Horizon

G

H

Red Laser

640

A

780/60

750

APC-Cy7, APC-H7, Alexa 750

B

730/45

690

Alexa 680, Alexa 700

C

670/14

APC, Cy5, Alexa 647, Alexa 633, CYTOX Red