Mass Cytometry (Montebello) Mass Cytometer/Imager (Helios/Hyperion)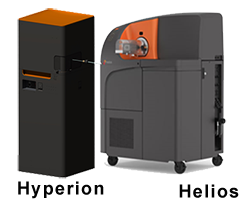 Mass cytometry uniquely combines time-of-flight mass spectrometry with metal-tagged antibodies. Cellular targets are labeled with metal-tagged antibodies and detected and quantified by time-of-flight mass spectrometry. The high purity and choice of metal isotopes provide minimal background noise from signal overlap. 135 available detection channels ensure an ongoing ability to add more parameters, enabling you to fully study the functional complexity of biological systems at the single-cell level. The mass cytometry system is operated by the PC-based software CyTOF version 7.0.
For cell suspension mass cytometry you can use the Helios directly.
For Imaging Mass Cytometry you can use the Hyperion Imaging module. The Hyperion uses a UV laser and a stream of Helium gas to lift 1 um2 sized pieces of your tissue of the slide and sends them into the Helios. You can choose up to 35 parameters to stain your parafin-embedded or frozen sections and get 1 um resolution images.
Room: K03.020
We provide an in-house libray of metal-labeled antibodies that users can buy per ul. More metal-labeled antibodies can also be bought from Fluidigm (http://maxpar.fluidigm.com/product-catalog-metal.php). You can conjugate your own antibodies using metal labeling kits that we also provide for a fee per reaction (100 ug antibody needed) (http://maxpar.fluidigm.com/product-catalog-maxpar.php). Please contact us (see next section) to get info on antibodies available and prices, help with project planning, panel design, staining protocols, and data analysis.
Access:
To use mass cytometry at the FCCF, please contact flowcytometri@rr-research.no. Regular users will be given training to run the instruments unsupervised.
User fees:
Helse Sør-Øst and UiO users will be prioritized.
DIY Running samples:
Academic users: 1000 NOK/h first 3 hours, 600 NOK/h for remaining hours of each run
Commercial users: 2000 NOK/h first 3 hours, 1200 NOK/h for remaining hours of each run
Assistance/core facility staff running samples: Instrument cost (prices above)+ Additional 500 NOK/h