Haematologica publication: Cancer patient at OUH received treatment guided by drug sensitivity testing of tumor cells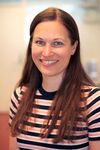 A study led by Sigrid S. Skånland, project group leader at Department of Cancer Immunology, demonstrates that direct drug testing of a patient's tumor cells can guide effective cancer therapy.
Skånland's project group focuses on developing functional precision medicine for patients with leukemia. This means to test different drugs directly on the patient's tumor cells and see if they kill the cells or not.
The study, which is accepted for publication in Haematologica, is a collaboration between research groups and OUH and UiO, with Geir E. Tjønnfjord, head of Department of Haematology, as the treating physician.
"I have collaborated closely with Geir Tjønnfjord for several years, and we share the ambition to develop functional precision medicine for patients with chronic lymphocytic leukemia", Skånland says. "When one of his patients experienced disease relapse after treatment with all available therapies, we decided to perform a drug sensitivity screen on his tumor cells to identify alternative treatment options."
The drug screen identified a proteasome inhibitor as the most effective therapy. This drug is approved for another type of blood cancer, multiple myeloma, but is not well studied in chronic lymphocytic leukemia.
"Geir Tjønnfjord decided to treat the patient with the proteasome inhibitor based on our findings. We were very happy to see that the patient responded well to the treatment and that his quality of life improved. We hope that this case will mark the beginning of using functional testing to guide treatment of leukemia patients in Norway."
Links:
The Haematologica Publication:
Functional testing of relapsed chronic lymphocytic leukemia guides precision medicine and maps response and resistance mechanisms. An index case.
Skånland SS, Inngjerdingen M, Bendiksen H, York J, Spetalen S, Munthe LA, Tjønnfjord GE.
Haematologica. 2022 Mar 3. doi: 10.3324/haematol.2021.280393.
PMID: 35236056
Sigrid Skånland's project group "Functional precision medicine for haematological cancers"
Department of Cancer Immunology