When can I contact the ACT?
You can contact the ACT as soon as you have developed a new therapeutic idea or a new technology regarding gene and cell therapy and you would like to translate it for human medicinal use.
What can I expect from the ACT?
Our goal is to support and facilitate the introduction of new therapies for patients. We offer guidance throughout the translational process, providing both space in pre-GMP and GMP facilities and support from our staff.
How much does it cost?
We have fees for each service and we apply different fees for academic and non-academic users.
We have an application fee to submit projects.
What are the ACT services?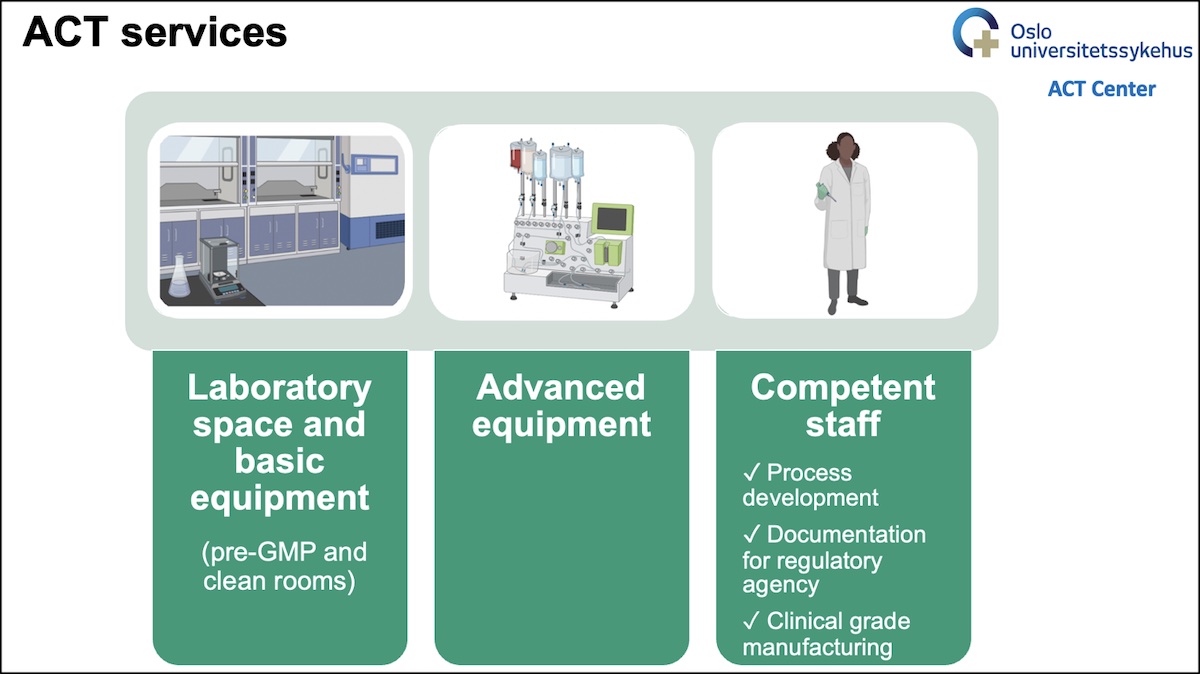 What can you expect from our staff support?
Project meetings: Project meetings are meant to ensure an efficient and timely progression of the project at all stages, monthly project meetings are mandatory.
Coaching meetings: These meetings are meant to help scientists at the early stage of the process. We provide guidance on how to identify the critical quality attributes of the product, how to conduct key experiments following GLP principles that can be used as proof of principle also for the regulatory bodies. Typically, these meetings are done in preparation and throughout the pre-GMP phase.
Hands-on support: our staff can support the planning and execution of pre-GMP experiments and we can provide GMP-trained staff to support manufacturing.
What do we do in pre-GMP?
In Pre-GMP the focus is on the development of a baseline manufacturing process. We support process development by evaluating the feasibility and the manufacturing design based on the critical quality attributes of the product. We offer access to laboratories equipped for cell culture (standard and automated) and viral vector production (in small scale). In this phase we also support the drafting of standard operating procedures (SOPs) and documentation needed for regulatory applications.
What is the GMP tech transfer?
This is the final stage of the pre-GMP phase and the beginning of the GMP manufacturing phase. At this point the manufacturing process has been fully developed in pre-GMP, the SOPs have been written and the scientists have been in contact with regulatory bodies and physicians to arrange a clinical trial. During this transfer the GMP staff has to learn how to perform the manufacturing according to the process and how to perform the required quality controls during process and for the final product release.
When does the GMP manufacturing start?
After the tech transfer the GMP staff will perform mock sterility runs and other test runs to ensure the compliance with GMP standards. After successful completion of this testing phase and after regulatory approval the manufacturing for patients can start.