Division of Clinical Neuroscience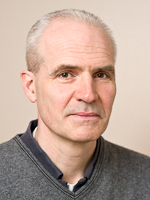 The Division's research activity is organized into 16 different research groups covering a broad range of basic, clinical and epidemiological research with an overall aim to improve patient care with emphasis on diagnostic, therapeutic and preventive measures. Most group leaders have a combined position at Oslo University Hospital and the University of Oslo. In total the Division has 18 Professors, 4 Associate Professors, several postdoctoral fellowships and PhD students, administrative staff and technical staff.
The Division has an advisory research board that in 2018 consisted of: Professor and Head of Research John-Anker Zwart, Division Director Eva Bjørstad, Senior Consultant Morten Lossius, Professor and Senior Consultant Eirik Helseth, Senior Consultant Mona Skjelland, Senior Consultant Nada Andelic, Quality and healthcare adviser Hege Hammer and Administrative Manager Agnete Hager. In 2018 there were in total 217 registered peer reviewed publications and 10 PhD dissertations.