The Norwegian Prostate Cancer Biomarker Consortium
Twenty-three investigators spanning university hospitals and universities in Oslo, Trondheim and Tromsø have formed a unique and valuable Norwegian consortium that works in close collaboration with researchers in US (Baltimore, Salt Lake City) and Sweden (Malmø). The consortium is named "Prognostic biomarkers for prostate cancer - a Norwegian collaboration project", and received the price "Prostate Cancer Team Science Award" in 2013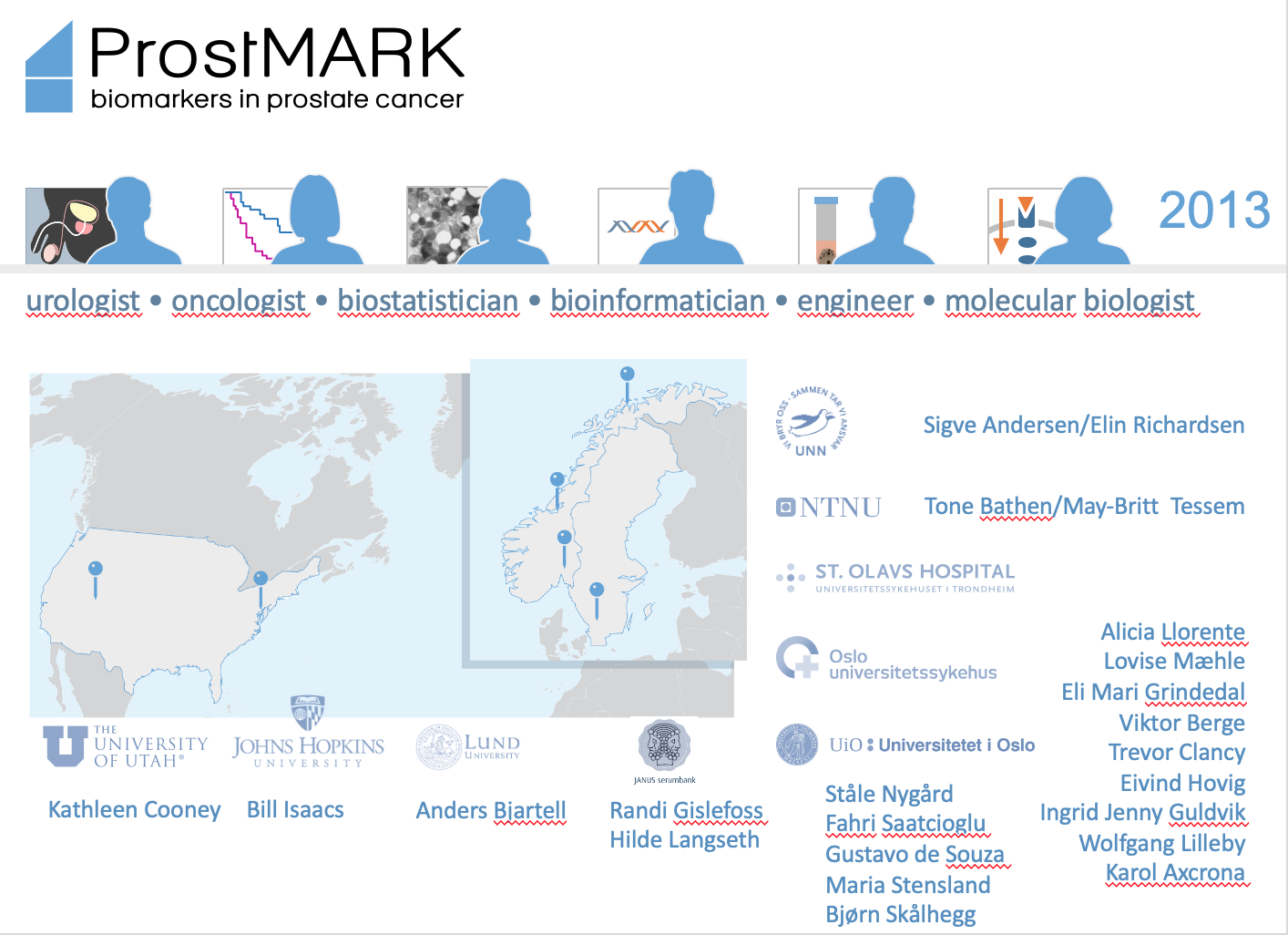 from the Movember Foundation through The Norwegian Cancer Society. The project was based on on-going biomarker projects and aimed to coordinate the research activities by harmonizing the definition of indolent and aggressive prostate cancer, exchange biological material and competence.
Output from the consortium:
Germline mutation analyses of HOXB13 and 32 established common risk alleles have been performed in 770 prostate cancer patients and 4700 controls. The results showed that the risk alleles of HOXB13 and common variant SNPs are important components of inherited PCa risk in the Norwegian population
Ten candidate serum protein biomarkers were identified by mass spectroscopy of serum samples and one of these candidates have been patented and validated in independent cohorts from Sweden, Denmark, Norway, UK and Germany.
Selected proteins within immune-oncology have been analyzed in blood samples using the OLINK technology. 34 serum proteins were identified as significantly associated with aggressive prostate cancer and five proteins were identified as prognostic markers of prostate cancer specific mortality. The five proteins act independently of clinical markers.
In order to further improve the sensitivity and specificity of diagnostic biomarkers in blood, a novel method enriching for glycosylated serum proteins have been developed.
The proteome of urinary exosomes by mass spectrometry and identified 246 proteins that were significantly changed in urinary exosomes from healthy controls compared to prostate cancer patients. At 100% specificity, 18 of these proteins displayed individual sensitivity above 60%. We found that we could reproduce these results using ELISA and Western blot for a selection of these proteins.
Candidate biomarkers for fatal prostate cancer have been identified by mass spectroscopy using formalin-fixed paraffin-embedded tissue samples.
Bioinformatic tools to integrate information from the various biomarker discovery projects and publicly available data have been established through the GALAXY platform and a Cytoscape Application, Neo4J online web-service.
Metabolite biomarkers discriminating no-progression and progression following radical prostatectomy have been identified using HR-MAS MRS on fresh-frozen tissue samples.
The consortium arranged on November 1st 2017 "The Norwegian Prostate Cancer Biomarker Symposium 2017" in Oslo.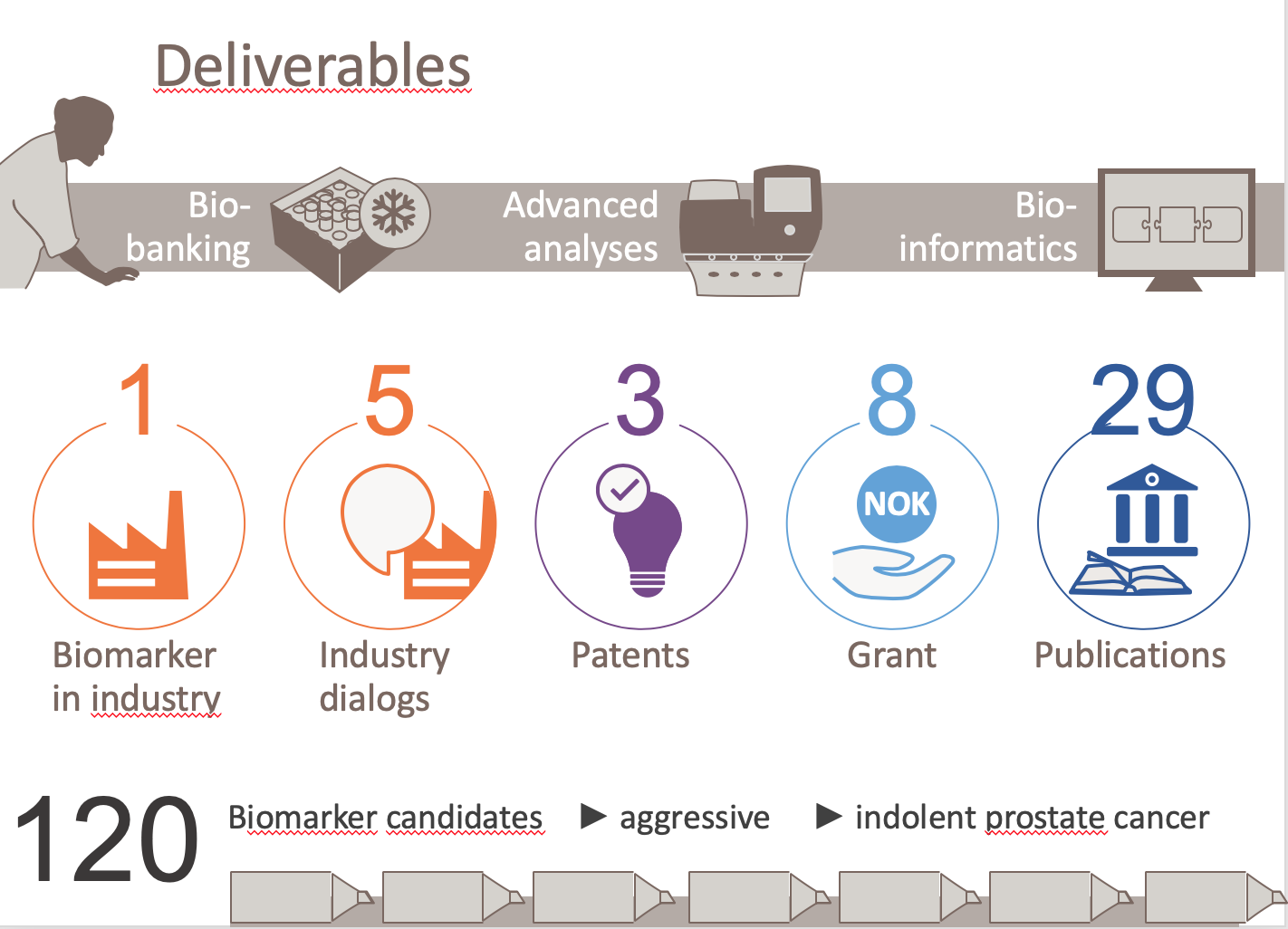 Popular scientific media, videos etc (2009-2014):
"Funds in Action: Professor Kristin Taskén", Youtube, 10.11.2014
"Bartemidler i aksjon: Professor Kristen Taskén", Youtube, 10.11.2014
"Vil avsløre aggressive prostatakreft". Publisert 06.11.2014 på Kreftforeningens hjemmeside.
"Lettere å skille snill fra slem prostatakreft". Publisert 06.11.2014 på no. Omarbeidet versjon av oppslaget ovenfor som ble publisert på Kreftforeningens hjemmeside 06.11.2014
Oppslag på Kreftforenings hjemmeside11.2014 er omtalt på OUS-research, og OUS sin hjemmeside
«Movember-bartene vokser videre», by Helga Tunheim, NRK Nyheteneat 5 pm October 24th 2013