Alcohol is the most common used drug in Norway. A large majority of the Norwegian population drinks alcohol, despite the negative effects on health, and where a high intake leads to a shorter life expectancy. Alcohol is related to over 200 different diseases and conditions, and it is one of the main contributing risk factors for illness, injury and premature death. Elderly people drink more alcohol now than before. Even at relatively low levels of alcohol consumption, older adults can be vulnerable due to age related physiological changes. In addition, elderly often have a concomitant use of medications that interact with alcohol. Alcohol is an organic compound and can affect all the organs of the body. It is classified as Group 1 carcinogen by the International Agency for Research on Cancer. The increased risk of cancer has been associated with both light (< 0.5 drink/day) and excessive alcohol use.
From a preventive health perspective, it is useful to be able to identify patients with risky alcohol use, without necessarily meeting the criteria for an addiction diagnosis. It has been shown that a high consumption of alcohol both increases the risk of complications and interferes with the course of treatment. To identify alcohol use, a short version of Alcohol Use Disorder Identification Test Consumption (AUDIT-C) is used and PEth, an alcohol biomarker, is measured in blood samples. Psychoactive substances both prescribed and used illegally are included in the blood sample screening as they interact with alcohol and may contribute to health deterioration both alone and in combination with alcohol and other drugs.
A reduction of a high alcohol consumption will be of health gain for patients both in short and long term.
The research group study health consequences of alcohol use, mainly among hospitalized injury- and medically ill patients. In addition we are studying the impact of tailored treatment, barriers to address alcohol use and we are working on improving alcohol information for both patients and health personnel. In order to better understand the prevalence of alcohol among patients, and the health outcome of a high intake, several research projects on alcohol and have been performed.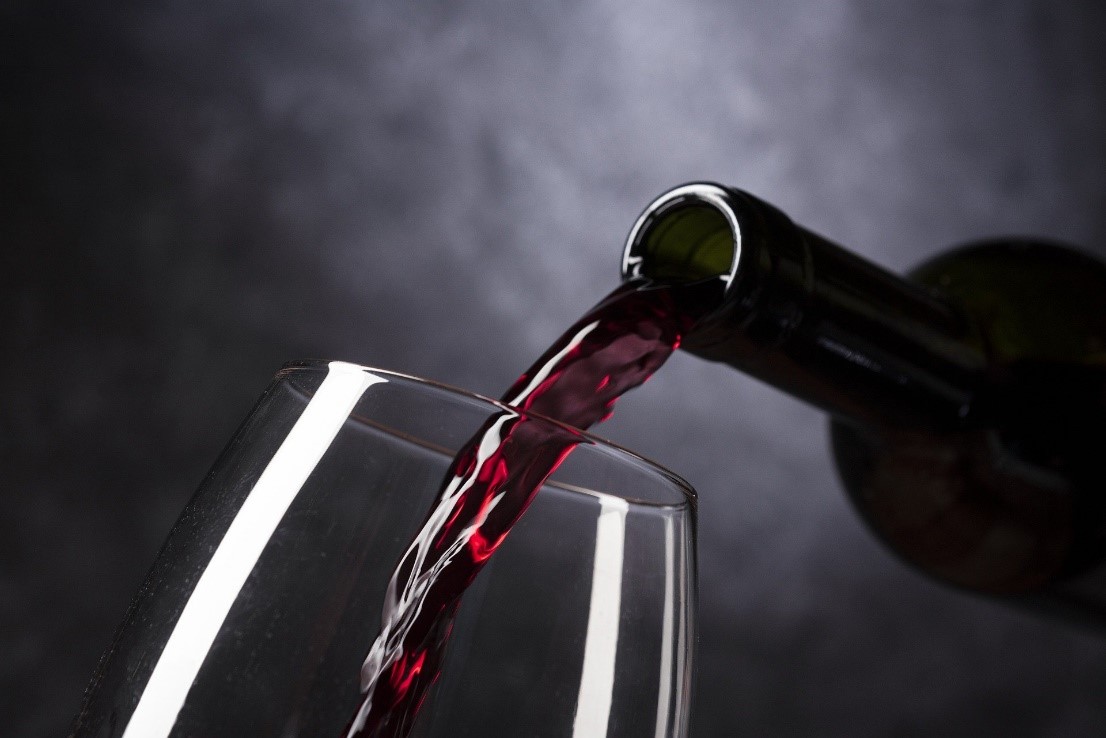 Photo: Pixabay
Ongoing projects
AlcoTail
Screening for harmful alcohol use among somatic patients and tailored interventions in Norwegian hospitals (Alcohol-AlcoTail-NOR).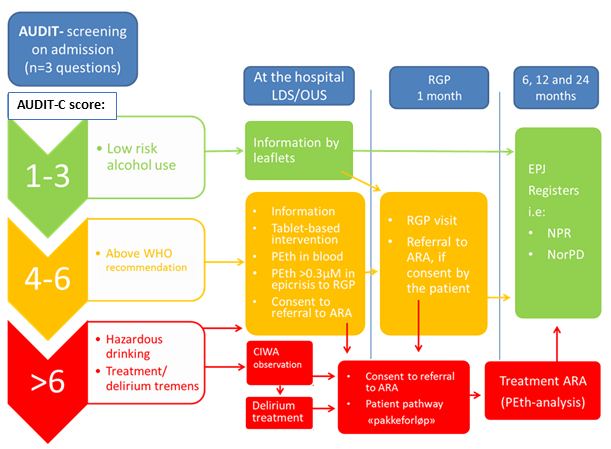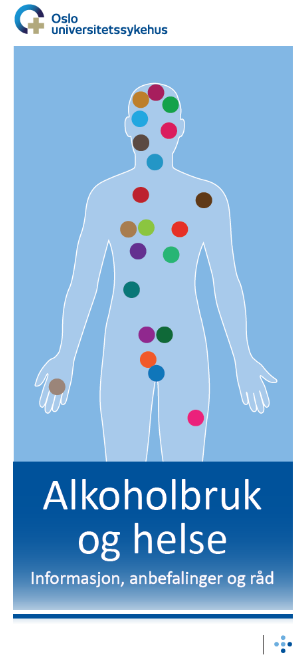 Addressing harmful alcohol use in the healthcare service
Survey among health personnel addressing harmful alcohol use in the healthcare system. Development of alcohol information leaflet, in collaboration with TSB at OUS.
Surveillance of alcohol and drug use among hospitalized somatic patients
Screening for harmful alcohol use among somatic patients at one hospital in Oslo. Further studies on patients with high alcohol intake with coupling of data from admissions, social and health registries.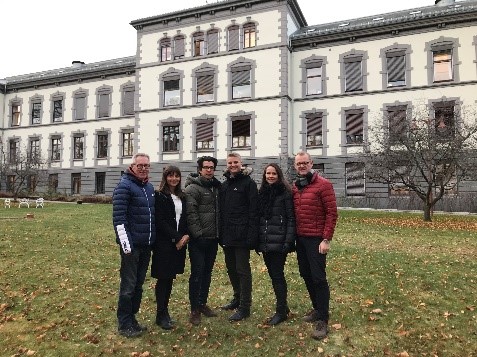 Photo: Oslo University Hospital
Previous projects
Alcohol, drugs and somatic health
Psychoactive Drugs, Alcohol and Injuries
Project members
Stig Tore Bogstrand (Professor, Head of Research, PhD)
Saranda Kabashi (PhD-student, MSc)
Danil Gamboa (PhD-student, MD)
Benedicte Jørgenrud (Coordinator, MSc)
Armika Nyman (Scientist, MSc Pharm)
Galina Nilsson (Engineer)
Vigdis Vindenes (Department head and Senior Scientist, MD, PhD)
Past members
Eline Skadberg (Engineer 2016-2019)
Collaboration
Anners Lerdal, Head of science, Lovisenberg Deaconal Hospital
Gudmund Nordby, Head of medical department, Lovisenberg Deaconal Hospital
Merete Taksdal, Project manager, NK-TSB, Oslo University Hospital
Press and Media Reports
Publications
Jørgenrud B, Kabashi S, Nadezhdin A, Bryun E, Koshkina E, Tetenova E, Lerdal A, Norby G, Kolgashkin A, Petukhov A, Perekhodov S, Davydova E, Vindenes V, Gamboa D, Bogstrand ST (2021)
The Association between the Alcohol Biomarker Phosphatidylethanol (PEth) and Self-Reported Alcohol Consumption among Russian and Norwegian Medical Patients
Alcohol Alcohol, 56 (6), 726-736
DOI 10.1093/alcalc/agab013, PubMed 33677484
Kabashi S, Gamboa D, Vindenes V, Berg T, Hilberg TA, Jørgenrud B, Lerdal A, Bogstrand ST (2021)
Multimorbidity, psychoactive substance use and psychological distress among acute medically ill patients: a cross-sectional study
BMJ Open, 11 (11), e052428
DOI 10.1136/bmjopen-2021-052428, PubMed 34815283
Gamboa D, Jørgenrud B, Bryun EA, Vindenes V, Koshkina EA, Nadezhdin AV, Kabashi S, Tetenova EJ, Berg T, Nyman AAT, Kolgashkin AJ, Petukhov AE, Perekhodov SN, Davydova EN, Lerdal A, Nordby G, Bogstrand ST (2020)
Prevalence of psychoactive substance use among acutely hospitalised patients in Oslo and Moscow: a cross-sectional, observational study
BMJ Open, 10 (9), e032572
DOI 10.1136/bmjopen-2019-032572, PubMed 32948540
Nadezhdin A, Joergenrud B, Tetenova E, Bryun E, Koshkina E, Petukhov A, Kolgashkin A, Kabashi S, Bogstrand ST (2020)
Predictors of tobacco smoking among acutely ill patients in a Moscow hospital: A cross-sectional study
Tob Prev Cessat, 6, 18
DOI 10.18332/tpc/117954, PubMed 32548355
Årving A, Høiseth G, Hilberg T, Trydal T, Husa A, Djordjevic A, Kabashi S, Vindenes V, Bogstrand ST (2020)
Comparison of the Diagnostic Value of Phosphatidylethanol and Carbohydrate-Deficient Transferrin as Biomarkers of Alcohol Consumption
Alcohol Clin Exp Res, 45 (1), 153-162
DOI 10.1111/acer.14503, PubMed 33164220
Kabashi S, Vindenes V, Bryun EA, Koshkina EA, Nadezhdin AV, Tetenova EJ, Kolgashkin AJ, Petukhov AE, Perekhodov SN, Davydova EN, Gamboa D, Hilberg T, Lerdal A, Nordby G, Zhang C, Bogstrand ST (2019)
Harmful alcohol use among acutely ill hospitalized medical patients in Oslo and Moscow: A cross-sectional study
Drug Alcohol Depend, 204, 107588
DOI 10.1016/j.drugalcdep.2019.107588, PubMed 31590131