Identified potent drugs for MPNST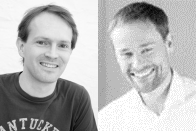 Matthias Kolberg og Jarle Bruun.
16.06.2017.
MPNST is a rare and aggressive soft tissue cancer, and no clinically tested drugs have so far demonstrated any benefit on survival for this patient group. In a collaborative study between the Lothe group and the Kallioniemi group at Finnish Institute for Molecular Medicine published in Molecular Oncology, scientists Matthias Kolberg and Jarle Bruun identified PLK1 and gemcitabine as potent drugs for MPNST. A library of more than 300 approved and investigational oncology compounds was screened by drug sensitivity and resistance testing (DSRT) across seven MPNST cell lines, two cultures of normal Schwann cells, and normal bone marrow cells, and the MPNST cells were found to be more sensitive towards PLK1 inhibitors and gemcitabine than the normal cells. The putative drug targets PLK1 and RRM1/RRM2 were also found to be overexpressed in MPNST cell lines compared to normal Schwann cells, as well as in MPNST patient material as compared to benign neuroectodermal tissue. The results point at new treatment strategies that should be evaluated in clinical trials.