System for generating updated publication lists available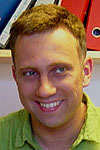 The publication activity at Oslo Univerity Hospital may be followed on a day-to-day basis, by using our advanced system for generating updated lists of PubMed registered articles. This web application - named "Publika" - makes it possible to generate custom-made publication lists based on a wide range of criteria, such as year, research unit, authorship position and "journal impact factor".
Publika is developed by Torbjørn Rognes from CMBN (photo), and the system has been fine-tuned to suit the various needs of Rikshospitalet in collaboration with The Research Services Department, in an ongoing process.
Publika generates the lists based on an automatic search procedure against PubMed. This process is conducted automatically every night, and there is a minimum of manual work involved in keeping Publika up to date.
More than 1600 employees are now registered in the system, distributed between a large number of various units, i.e. groups, sections, departments, institutes and clinics, according to the organizational structure of the hospital.
| | |
| --- | --- |
| | The publication search page may easily be reached by clicking on the "Publication search" icon, found in the top banner and available from every web page on www.rr-research.no. |
| | It is convenient to generate publication lists by visting Publika directly, from www.publika.no. |
Publika may also bring detailed information about various forms of publications points. These data are available from Publika's home page www.publika.no. Full access to this web site is limited to employees at Oslo UH (IP address sensitive).
Much of the functionality, as well as the much of the complex hierarchy of researchers and units has been copied from "Impact" - the system that was in use before Publika, and was developed by Eivind Hovig and Vegard Nygaard from the Department of Tumor Biology at the Institute for Cancer Research. The groundwork put into Impact has been of great importance for the implementation of the successor Publika.

For more information about Publika:
contact Trond Olav Berg from the Research Services Department (administrator and involved in maintainance and further implementation of the system on a daily basis) or the developer himself - Torbjørn Rognes.
Links: