Fridtjof Nansen award 2021 for excellent research to Harald A. Stenmark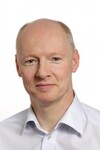 The Fridtjof Nansen award for excellence in science is for 2021 awarded to Professor Harald Alfred Stenmark for his outstanding research in the field of cellular and molecular biology, with particular focus on cancer research.
This prestigious prize is awarded to a Norwegian scientist, or a scientist residing in Norway, for scientific contributions of a high-level international importance. The award is given to inspire further work.
The award ceremony takes place at the annual meeting of The Norwegian Academy of Science and Letters in May.
From the committee's recommendation:
Already early in his research career, Stenmark made a name for himself with significant publications and he has followed up with a large number of exceptional works. To begin with, Stenmark became interested in the properties of biological membranes, and this is expertise he has used to this day. His breakthrough with an independent project was perhaps the description of the FYVE domain in proteins in 1996-1998. The newly identified FYVE domain was shown to be important for interactions with a metabolite called PI3P, an important regulatory component of a tumor suppressor. These works are important for our understanding of how proteins are recruited to the inner membranes of a cell.
The committee recommends that the The Fridtjof Nansen award for excellence in science for 2021 be awarded to Harald Alfred Stenmark.
Harald Stenmark's work stands the test of time and is respected and frequently cited in his field. His solid work has not only given him publications in the world's most prestigious journals, but also several prestigious awards and memberships in leading academic associations.
He was elected a member of The Norwegian Academy of Science and Letters in 2005.
He is responsible for establishing two Norwegian Centres of Excellence funded by the Research Council of Norway, and he is among the few who have received two subsequent "Advanced Grants" from the European Research Council.
Harald Stenmark is a towering researcher who does not stand in the way of others. He has educated and encouraged a number of very promising researchers who are in the process of creating their own, outstanding careers.
The award winner says:
- I really appreciate this recognition of our basic research in the field of cancer cell biology. I have been so fortunate to have been allowed to work with a team of younger, enthusiastic employees, and there is always a collaboration between many people behind our scientific discoveries. We have top facilities and an engaging academic environment at the Institute of Cancer Research, and we otherwise receive a lot of support from the University of Oslo, the South-Eastern Norway Regional Health Authority, the Norwegian Cancer Society, the Research Council and the European Research Council.
---
Links:
From the home page of The Norwegian Academy of Science and Letters:
Fridtjof Nansens belønning til Harald Alfred Stenmark
Home page of Harald Stenmark's group
Cellular membrane dynamics
The Department of Molecular Cell Biology