Interview with Pål Selbo published on ecancer.tv attracts attention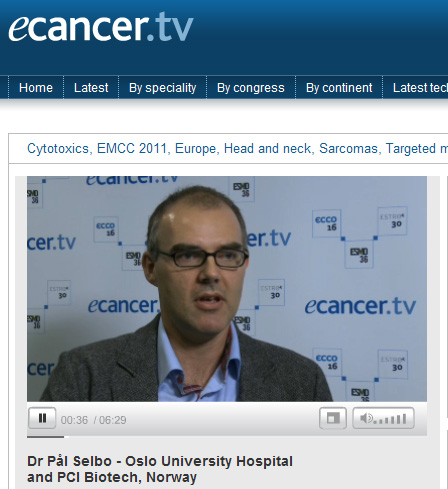 Pål Selbo - senior scientist in Kristian Berg's group at the Department of Radiation Biology - was interviewed during the European Cancer Organization (ECCO) meeting in Stockholm September 24th. This interview was filmed for Web TV and published on ecancer.tv. This is an increasingly populuar service provided by Ecancermedicalscience - an editorially independent open-access cancer journal and online news outlet founded by the European Institute of Oncology.
The Selbo webcast has been selected as "editors pick" in the "Technologies" category. The interview has been well received, judged by the numbers of visitors and the rating.
Ecancermedicalscience.com is the leading independent online publication and media channel for the cancer community, committed to improving the spread of information for free. ecancer features an open access journal, videos and the latest oncology news and opinion.
About the interview (from ecancermedicalscience.com)
A new light activated technique for delivery of anti-cancer drugs
Dr Pål Selbo explains a new mechanism scientists at the Norwegian Radium Hospital have developed developed to deliver anti-cancer drugs. Photochemical internalisation (PCI) is based on the light activation of photosensitisers. When light is absorbed by the photosensitiser it induces the oxidisation of endosomes and lysosomes membranes, causing them to release their contents. PCI uses red light as this penetrates furthest into the patient's body (1cm) without causing any serious adverse effects. PCI utilises the high affinity photosensitisers have for tumour tissues in order to accurately deliver drugs to the site where they are needed and allows clinicians to kill cancer cells using three different mechanisms:
Shutting down the micro-vascular network of the tumour
Killing cancer cells directly through apoptosis or necrosis
Stimulation of the immune system
Dr Selbo discusses the promising results of the phase I clinical trial which assessed the delivery of bleomycin using PCI in patients with head and neck cancer; talks about the planned phase II study and outlines the potential to use this technique in the treatment of sarcoma and the local control of many other tumour types.
Links: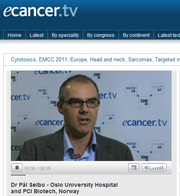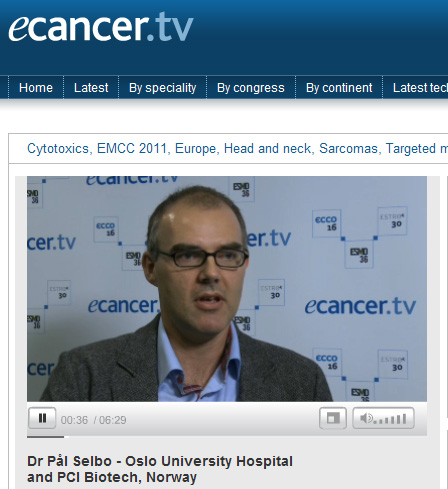 To the interview, from ecancer.tv:
A new light activated technique for delivery of anti-cancer drugs
Pål Selbo's CV and puclications