Ovarian cancer: heterogeneity and biomarkers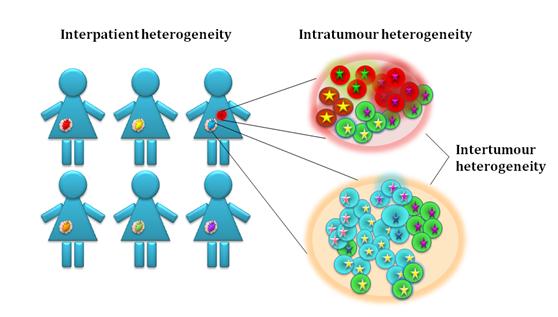 Ovarian cancer (OC) is the most lethal gynaecological cancer and a global health challenge for females. Two-thirds of the OC patients have metastases already at the time of diagnosis. Patients with localized disease have a 5-year survival rate of 80-90% whereas this is around 30% and 15% for patients with stage III and IV OC, respectively. Standard primary treatment of advanced ovarian cancer has until recently been radical surgery with adjuvant/neoadjuvant platinum and paclitaxel chemotherapy. However, chemotherapy resistance and toxicity, often after repeated cycles with chemotherapy, is the main reason for treatment failure. Targeted therapy with patient benefit is first-line poly (ADP-ribose) polymerase (PARP) inhibitors, but also maintenance treatment with bevacizumab after relapse of platinum sensitive cancer prolongs the progression-free survival. Epithelial ovarian cancer is divided into type I (~25%) and II (~75%); high grade serous ovarian cancer is the most aggressive among type II cancers and almost all have <i>TP53</i> mutations and about one out of five have <i>BRCA</i> mutations.
Understanding the molecular biology of OC is of paramount importance to improve treatment and prolong survival. Our project aims to make a significant contribution to the knowledge of clonal evolution and of the influence of molecular heterogeneity on disease progression and chemoresistance. We compare inter and intra-tumour heterogeneity, including the molecular characterisation of multiple samples from individual and successive tumours from each patient taken during disease progression. The studies include both patients with known genetic predisposition and sporadic OC. A long-term goal is to develop biomarkers for early detection and to suggest novel intervention strategies.
Projects
Multi-level molecular profiling of OC in a heterogeneity context

Spatiotemporal heterogeneity in high grade serous ovarian cancer (HGSOV)

Development of prognostic and predictive biomarkers
Collaborations
The research program is an interdisciplinary effort within the Oslo University Hospital, and include partners from the Departments of Molecular Oncology (Institute for Cancer Research), Gynaecologic Oncology (Dr. Anne Dørum) and Pathology (Prof Ben Davidson).
The research project at Department of Molecular Oncology is run jointly between the Genetics Group and the Genome Biology Group with the following personnel involved:
Bjarne Johannessen, Kristina Totland Carm, Anita Sveen and Merete Bjørnslett.