NoSarC NoSarC - Norwegian Sarcoma Consortium
The NoSarC project, initiated in 2014, has inspired the Norwegian sarcoma environment, and stimulated the interest also for clinical research. This inter­disciplinary consortium of academic scientists and clinicians, representing all health regions grew out of the Norwegian Cancer Genomics Con­sortium (NCGC, cancergenomics.no). With the support from the Cancer Society, Helse Sørøst, The Research Coun­cil and private funds, NoSarC is accruing an inter­nationally unique biobank containing material from several annual popu­lation-based cohorts of Norwe­gian sarcoma patients. The value of our biobank has already been proven through inter­national collabo­rations (ref). The NoSarC projects has several objectives:
Collection of a population-based biobank of tumor, blood, plasma and serum samples from sarcoma patients in all health regions of Norway over 3+ years, resulting in approximately 600 samples
Next generation sequencing (NGS) analysis of all genes to identify possibly targetable mutated driver mechanisms and possible genetic predisposing factors
Establishing in vivo and in vitro models from the most aggressive tumors
Preclinical investigations to determine efficacy of available drugs in sarcoma cells in vitro, based on targets found by NGS analysis
Medium-throughput drug screens to identify drugs with in vitro efficacy against sarcoma cells
In vivo validation of promising drugs in sarcoma xenograft models
Initiation of small-scale national and international clinical trials to evaluate the efficacy of new drugs in sarcoma patients
Read more about the project on NCGC Sarcoma.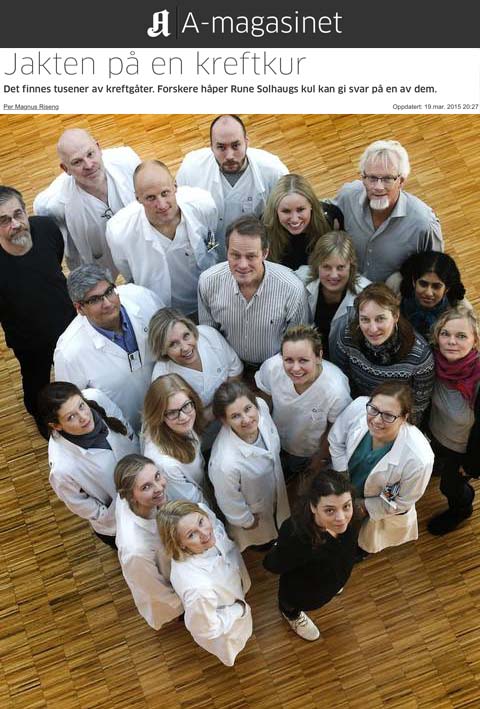 Many are contributing to the sucess of the NoSarc project!
Read more about the project and "Jakten på en kreftkur" i A-Magasinet.