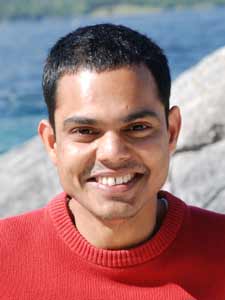 Ashish Jain

Position:
Postdoc (Helse Sør-øst)
Phone:
+47 22 78 19 15
Email:
Ashish did his B.Sc. at Govt. Model Science College Jabalpur (India), followed by a M.Sc. in Bioinformatics from New Delhi and a second Master's in Molecular Biology in Sweden/Switzerland. After that he joined Terje Johansen's lab at the University of Tromsø in 2008 for his PhD and a postdoc focusing on "Roles of p62 in the Nrf2-Keap1 oxidative stress response pathway in mammals and flies" and "roles of p62 and TRIM-family proteins in Autophagy". From December'2015, Ashish joined Tor-Erik's group and is currently interested in the crossroads of metabolic, oxidative, dietary stress and autophagy in tumorigenesis. As an inroad to these questions he focuses at understanding the role of the Peutz Jegher cancer syndrome kinase, Lkb1 in Drosophila and human organoid model systems.


Publications by Ashish Jain (Full list)
Microenvironmental autophagy promotes tumour growth.
Katheder NS, Khezri R, O'Farrell F, Schultz SW, Jain A, Rahman MM, Schink KO, Theodossiou TA, Johansen T, Juhász G, Bilder D, Brech A, Stenmark H, Rusten TE.
Nature. 2017 Jan 11. doi: 10.1038/nature20815. [Epub ahead of print]
PMID: 28077876
Dedicated SNAREs and specialized TRIM cargo receptors mediate secretory autophagy.
Kimura T, Jia J, Kumar S, Choi SW, Gu Y, Mudd M, Dupont N, Jiang S, Peters R, Farzam F, Jain A, Lidke KA, Adams CM, Johansen T, Deretic V.
EMBO J. 2017 Jan 4;36(1):42-60.
PMID: 27932448
TRIM17 contributes to autophagy of midbodies while actively sparing other targets from degradation.
Mandell MA, Jain A, Kumar S, Castleman MJ, Anwar T, Eskelinen EL, Johansen T, Prekeris R, Deretic V.
J Cell Sci. 2016 Oct 1;129(19):3562-3573.
PMID: 27562068
TRIMs and Galectins Globally Cooperate and TRIM16 and Galectin-3 Co-direct Autophagy in Endomembrane Damage Homeostasis.
Chauhan S, Kumar S, Jain A, Ponpuak M, Mudd MH, Kimura T, Choi SW, Peters R, Mandell M, Bruun JA, Johansen T, Deretic V.
Dev Cell. 2016 Sep 28. pii: S1534-5807(16)30568-8. doi: 10.1016/j.devcel.2016.08.003.
PMID: 27693506
TRIM-Directed Selective Autophagy Regulates Immune Activation.
Kimura T, Jain A, Choi SW, Mandell MA, Johansen T, Deretic V.
Autophagy. 2016 Mar 16:0. [Epub ahead of print]
PMID: 26983397
Identification of p62/SQSTM1 as a component of non-canonical Wnt VANGL2-JNK signalling in breast cancer.
Puvirajesinghe TM, Bertucci F, Jain A, Scerbo P, Belotti E, Audebert S, Sebbagh M, Lopez M, Brech A, Finetti P, Charafe-Jauffret E, Chaffanet M, Castellano R, Restouin A, Marchetto S, Collette Y, Gonçalvès A, Macara I, Birnbaum D, Kodjabachian L, Johansen T, Borg JP.
Nat Commun. 2016 Jan 12;7:10318. doi: 10.1038/ncomms10318.
PMID: 26754771 Free PMC Article

Guidelines for the use and interpretation of assays for monitoring autophagy (3rd edition).
Klionsky DJ, ..........., Jain A, Rusten TE, ............., Zughaier SM.
Autophagy. 2016;12(1):1-222. doi: 10.1080/15548627.2015.1100356.
TRIM-mediated precision autophagy targets cytoplasmic regulators of innate immunity.
Kimura T, Jain A, Choi SW, Mandell MA, Schroder K, Johansen T, Deretic V
Cell Biol. 2015 Sep 14;210(6):973-89.
PMID: 26347139 Free PMC Article

p62/Sequestosome-1, Autophagy-related Gene 8, and Autophagy in Drosophila Are Regulated by Nuclear Factor Erythroid 2-related Factor 2 (NRF2), Independent of Transcription Factor TFEB.
Jain A, Rusten TE, Katheder N, Elvenes J, Bruun JA, Sjøttem E, Lamark T, Johansen T.
J Biol Chem. 2015 Jun 12;290(24):14945-62. doi: 10.1074/jbc.M115.656116. Epub 2015 Apr 30.
PMID: 25931115 Free PMC Article
SQSTM1/p62 regulates the expression of junctional proteins through epithelial-mesenchymal transition factors.
Bertrand M, Petit V, Jain A, Amsellem R, Johansen T, Larue L, Codogno P, Beau I.
Cell Cycle. 2015;14(3):364-74. doi: 10.4161/15384101.2014.987619.
PMID: 25496309

HIV-1 viral infectivity factor interacts with microtubule-associated protein light chain 3 and inhibits autophagy.
Borel S, Robert-Hebmann V, Alfaisal J, Jain A, Faure M, Espert L, Chaloin L, Paillart JC, Johansen T, Biard-Piechaczyk M.
AIDS. 2015 Jan 28;29(3):275-86.
PMID: 25490467
TRIM proteins regulate autophagy and can target autophagic substrates by direct recognition.
Mandell MA, Jain A, Arko-Mensah J, Chauhan S, Kimura T, Dinkins C, Silvestri G, Münch J, Kirchhoff F, Simonsen A, Wei Y, Levine B, Johansen T, Deretic V.
Dev Cell. 2014 Aug 25;30(4):394-409. doi: 10.1016/j.devcel.2014.06.013. Epub 2014 Aug 7.
PMID: 25127057 Free PMC Article
TRIM proteins regulate autophagy: TRIM5 is a selective autophagy receptor mediating HIV-1 restriction.
Mandell MA, Kimura T, Jain A, Johansen T, Deretic V.
Autophagy. 2014;10(12):2387-8. doi: 10.4161/15548627.2014.984278.
PMID: 25587751 Free PMC Article
ATG8 family proteins act as scaffolds for assembly of the ULK complex: sequence requirements for LC3-interacting region (LIR) motifs.
Alemu EA, Lamark T, Torgersen KM, Birgisdottir AB, Larsen KB, Jain A, Olsvik H, Øvervatn A, Kirkin V, Johansen T.
J Biol Chem. 2012 Nov 16;287(47):39275-90. doi: 10.1074/jbc.M112.378109. Epub 2012 Oct 5.
PMID: 23043107 Free PMC Article
p62/SQSTM1 is a target gene for transcription factor NRF2 and creates a positive feedback loop by inducing antioxidant response element-driven gene transcription.
Jain A, Lamark T, Sjøttem E, Larsen KB, Awuh JA, Øvervatn A, McMahon M, Hayes JD, Johansen T.
J Biol Chem. 2010 Jul 16;285(29):22576-91. doi: 10.1074/jbc.M110.118976. Epub 2010 May 7.
PMID:  20452972 Free PMC Article 
Publications by Ashish Jain (Institute database)

Publications 2017
Kimura T, Jain A, Choi SW, Mandell MA, Johansen T, Deretic V (2017)
TRIM-directed selective autophagy regulates immune activation
Autophagy, 13 (5), 989-990
PubMed 26983397
Publications 2016
Chauhan S, Kumar S, Jain A, Ponpuak M, Mudd MH, Kimura T, Choi SW, Peters R, Mandell M, Bruun JA, Johansen T, Deretic V (2016)
TRIMs and Galectins Globally Cooperate and TRIM16 and Galectin-3 Co-direct Autophagy in Endomembrane Damage Homeostasis
Dev Cell, 39 (1), 13-27
PubMed 27693506
Klionsky DJ, Abdelmohsen K, Abe A, Abedin MJ, Abeliovich H, Acevedo Arozena A, Adachi H, Adams CM, Adams PD, Adeli K, Adhihetty PJ, Adler SG, Agam G, Agarwal R, Aghi MK, Agnello M, Agostinis P, Aguilar PV, Aguirre-Ghiso J, Airoldi EM, Ait-Si-Ali S, Akematsu T, Akporiaye ET, Al-Rubeai M, Albaiceta GM et al. (2016)
Guidelines for the use and interpretation of assays for monitoring autophagy (3rd edition)
Autophagy, 12 (1), 1-222
PubMed 26799652
Puvirajesinghe TM, Bertucci F, Jain A, Scerbo P, Belotti E, Audebert S, Sebbagh M, Lopez M, Brech A, Finetti P, Charafe-Jauffret E, Chaffanet M, Castellano R, Restouin A, Marchetto S, Collette Y, Gonçalvès A, Macara I, Birnbaum D, Kodjabachian L, Johansen T, Borg JP (2016)
Identification of p62/SQSTM1 as a component of non-canonical Wnt VANGL2-JNK signalling in breast cancer
Nat Commun, 7, 10318
PubMed 26754771
Publications 2015
Bertrand M, Petit V, Jain A, Amsellem R, Johansen T, Larue L, Codogno P, Beau I (2015)
SQSTM1/p62 regulates the expression of junctional proteins through epithelial-mesenchymal transition factors
Cell Cycle, 14 (3), 364-74
PubMed 25496309
Borel S, Robert-Hebmann V, Alfaisal J, Jain A, Faure M, Espert L, Chaloin L, Paillart JC, Johansen T, Biard-Piechaczyk M (2015)
HIV-1 viral infectivity factor interacts with microtubule-associated protein light chain 3 and inhibits autophagy
AIDS, 29 (3), 275-86
PubMed 25490467
Jain A, Rusten TE, Katheder N, Elvenes J, Bruun JA, Sjøttem E, Lamark T, Johansen T (2015)
p62/Sequestosome-1, Autophagy-related Gene 8, and Autophagy in Drosophila Are Regulated by Nuclear Factor Erythroid 2-related Factor 2 (NRF2), Independent of Transcription Factor TFEB
J Biol Chem, 290 (24), 14945-62
PubMed 25931115
Kimura T, Jain A, Choi SW, Mandell MA, Schroder K, Johansen T, Deretic V (2015)
TRIM-mediated precision autophagy targets cytoplasmic regulators of innate immunity
J Cell Biol, 210 (6), 973-89
PubMed 26347139
Publications 2014
Mandell MA, Jain A, Arko-Mensah J, Chauhan S, Kimura T, Dinkins C, Silvestri G, Münch J, Kirchhoff F, Simonsen A, Wei Y, Levine B, Johansen T, Deretic V (2014)
TRIM proteins regulate autophagy and can target autophagic substrates by direct recognition
Dev Cell, 30 (4), 394-409
PubMed 25127057
Publications 2012
Alemu EA, Lamark T, Torgersen KM, Birgisdottir AB, Larsen KB, Jain A, Olsvik H, Øvervatn A, Kirkin V, Johansen T (2012)
ATG8 family proteins act as scaffolds for assembly of the ULK complex: sequence requirements for LC3-interacting region (LIR) motifs
J Biol Chem, 287 (47), 39275-90
PubMed 23043107