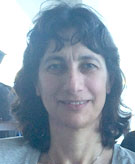 Maria Stylianou Korsnes
Group leader, professor
+47 66 90 88 25
Publications 2020
Justo R, Ben Letaifa L, Palmero C, Gonzalez-Fraile E, Johansen AT, Vazquez A, Cordasco G, Schlogl S, Fernandez-Ruanova B, Silva M, Escalera S, deVelasco M, Tenorio-Laranga J, Esposito A, Korsnes M, Torres MI (2020)
Analysis of the interaction between elderly people and a simulated virtual coach
J. Ambient Intell. Humaniz. Comput.
Korsnes MS (2020)
Performance on the mini-mental state exam and the Montreal cognitive assessment in a sample of old age psychiatric patients
SAGE Open Med, 8, 2050312120957895
DOI 10.1177/2050312120957895, PubMed 32963783
Korsnes MS (2020)
Performance on the mini-mental state exam and the Montreal cognitive assessment in a sample of old age psychiatric patients
SAGE Open Medicine, 8, 1-7
DOI 10.1177/2050312120957895, PublikaID 350
Korsnes MS, Winkler AS (2020)
Global, regional, and national burden of dementia, 1990-2016: Predictions need local calibration
Neurology, 94 (16), 718-719
DOI 10.1212/WNL.0000000000009301, PubMed 32245845
Tonga JB, Eilertsen DE, Solem IKL, Arnevik EA, Korsnes MS, Ulstein ID (2020)
Effect of Self-Efficacy on Quality of Life in People With Mild Cognitive Impairment and Mild Dementia: The Mediating Roles of Depression and Anxiety
Am J Alzheimers Dis Other Demen, 35, 1533317519885264
DOI 10.1177/1533317519885264, PubMed 31916847
Tonga JB, Šaltytė Benth J, Arnevik EA, Werheid K, Korsnes MS, Ulstein ID (2020)
Managing depressive symptoms in people with mild cognitive impairment and mild dementia with a multicomponent psychotherapy intervention: a randomized controlled trial
Int Psychogeriatr, 1-15 (in press)
DOI 10.1017/S1041610220000216, PubMed 32131911
Publications 2019
Knauss S, Stelzle D, Emmrich JV, Korsnes MS, Sejvar JJ, Winkler AS (2019)
An emphasis on neurology in low and middle-income countries
Lancet Neurol, 18 (12), 1078-1079
DOI 10.1016/S1474-4422(19)30392-8, PubMed 31973806
Martinussen LJ, Šaltytė Benth J, Almdahl IS, Borza T, Selbæk G, Mcpherson B, Korsnes MS (2019)
The effect of anxiety on cognition in older adult inpatients with depression: results from a multicenter observational study
Heliyon, 5 (8), e02235
DOI 10.1016/j.heliyon.2019.e02235, PubMed 31497664
Publications 2015
Elfrid Margrete Aarseth, Korsnes MS, Ulstein ID, Tjærnes IM, McPherson BA (2015)
Sammenhengen mellom depresjon, mental helse og fysisk funksjon i en alderspsykiatrisk avdeling, en pilotstudie
Nordisk Tidsskrift for Helseforskning, 10 (2), 33-44
DOI 10.7557/14.3321, PublikaID 346
Tonga JB, Karlsoeen BB, Arnevik EA, Werheid K, Korsnes MS, Ulstein ID (2015)
Challenges With Manual-Based Multimodal Psychotherapy for People With Alzheimer's Disease: A Case Study
Am J Alzheimers Dis Other Demen, 31 (4), 311-7
DOI 10.1177/1533317515603958, PubMed 26385947
Publications 2014
Korsnes MS, Ulstein ID (2014)
Cognitive Effects of Late Life Depression: Review of Neuropsychological Findings
Journal of Behavioral and Brain Science, 4, 141-157
PublikaID 347
Publications 2013
Korsnes MS, Lövdahl H, Andersson S, Björnerud A, Due-Tönnesen P, Endestad T, Malt UF (2013)
Working memory in recurrent brief depression: an fMRI pilot study
J Affect Disord, 149 (1-3), 383-92
DOI 10.1016/j.jad.2013.02.017, PubMed 23510545
Publications 2012
Engedal K, Kvaal K, Korsnes M, Barca ML, Borza T, Selbaek G, Aakhus E (2012)
The validity of the Montgomery-Aasberg depression rating scale as a screening tool for depression in later life
J Affect Disord, 141 (2-3), 227-32
DOI 10.1016/j.jad.2012.02.042, PubMed 22464007
Hirnstein M, Westerhausen R, Korsnes MS, Hugdahl K (2012)
Sex differences in language asymmetry are age-dependent and small: a large-scale, consonant-vowel dichotic listening study with behavioral and fMRI data
Cortex, 49 (7), 1910-21
DOI 10.1016/j.cortex.2012.08.002, PubMed 22980918
Publications 2009
Korsnes MS, Hugdahl K, Bjørnaes H (2009)
An fMRI case study of visual memory in a patient with epilepsy: comparison before and after temporal lobe surgery
Brain Struct Funct, 213 (4-5), 457-62
DOI 10.1007/s00429-009-0216-6, PubMed 19707785
Korsnes MS, Hugdahl K, Nygård M, Bjørnaes H (2009)
An fMRI study of auditory hallucinations in patients with epilepsy
Epilepsia, 51 (4), 610-7
DOI 10.1111/j.1528-1167.2009.02338.x, PubMed 19817808
Publications 2008
Korsnes MS, Wright AA, Gabrieli JD (2008)
An fMRI analysis of object priming and workload in the precuneus complex
Neuropsychologia, 46 (5), 1454-62
DOI 10.1016/j.neuropsychologia.2007.12.028, PubMed 18304592
Publications 2007
Korsnes MS, Magnussen S (2007)
Automatic semantic priming in the left and right hemispheres
Scand J Psychol, 48 (3), 197-202
DOI 10.1111/j.1467-9450.2007.00557.x, PubMed 17518912
Publications 2006
Korsnes MS, Magnussen S (2006)
Fast perceptual priming in the left and right hemispheres
Scand J Psychol, 47 (2), 85-91
DOI 10.1111/j.1467-9450.2006.00495.x, PubMed 16542350