Paper from Heidi Lyng's project group published in PLoS Genetics and highlighted in Nature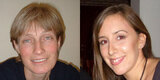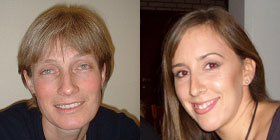 An article from Heidi Lyng's project group Clinical Radiation Biology at department of Radiation Biology was recently published in PLoS Genetics (impact factor 8.9). The paper - entitled "Gene dosage, expression, and ontology analysis identifies driver genes in the carcinogenesis and chemoradioresistance of cervical cancer" - has attracted attention and was featured in "Research Highlights" in the November 19 issue of Nature.
Malin Lando is first author and PhD student in Lyng's group.
In their paper Lando and colleagues combined gene copy number and expression profiles of 102 cervical cancer patients treated at the Radium Hospital. The research depicted specific genetic changes that were linked to well-known tumor promoting processes and seemed to be crucial steps in disease progression. Novel loci associated with treatment resistance were found that added information to the clinical data obtained through standard examination methods. The findings may be useful for identifying patients who need more aggressive therapy and in the design of new targeted radiosensitizers.

The clinicians involved in the research were Gunnar B. Kristensen and the radiotherapy team at the section for Gynecological Oncology. Collaborators in statistics were scientists at the Norwegian Computing Center and at UiO, in the SFI group Statistics for Innovation.

Links:

Gene dosage, expression, and ontology analysis identifies driver genes in the carcinogenesis and chemoradioresistance of cervical cancer.
Lando M, Holden M, Bergersen LC, Svendsrud DH, Stokke T, Sundfør K, Glad IK, Kristensen GB, Lyng H.
PLoS Genet. 2009 Nov;5(11):e1000719. Epub 2009 Nov 13.
View article from: PLoS Genetics| PubMed
Research Highlights from Nature:
Cancer biology: Gene highs and lows
Nature 462, 254-254 (18 November 2009) doi:10.1038/462254c
The Nature Nov 18 Research Highlights section

---
Heidi Lyng's project group - Clinical Raditaion Biology
The gynecological oncology research group at the Norwegian Radium Hospital