First Institute seminar, spring 2009
Geir Ketil Sandve and Eivind Hovig on statistical analyses of genomic data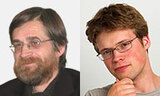 Eivind Hovig (left) and Geir Ketil Sandve
The first institute seminar for the spring of 2009 will be held on Wednesday January 14th. Speakers will be Geir Ketil Sandve from the Department of Computer and Information Science at NTNU and Eivind Hovig from the Department of Tumor Biology.
The title of their talk is "Massive statistical analyses of genomic data"

Time and place: 12:00, in the seminar room F4.