"Centre for Cancer Biomedicine" selected as new CoE-centre
Eight research centres were on December 19th appointed as "Centres of Excellence" (CoE) by the Norwegian Research Council.
These were selected in hard competition between the 26 outstanding research groups that had reached the final selection round. The eight new CoE's will altogehter receive 800 million NOK during the next 10 years.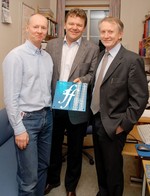 The Minister of Education and Research - Øystein Djupedal, and Arvid Hallén - the director-general of the Research Council of Norway - paid Harald Stenmark a surprise visit on Tuesday Dec 19th, bringing with them 100 million NOK. The event was filmed by a crew from the national broadcasting corporation (NRK), and an interview with Stenmark was shown in prime time on the popular news broadcast "Dagsrevyen".

Harald Stenmark is the CoE director for the "Centre for Cancer Biomedicine", and vice director is Ragnhild A. Lothe. The other main participants are Erlend B. Smeland, Håvard E. Danielsen, Kirsten Sandvig, Sjur Olsnes, Antoni Wiedlocha and Knut Liestøl.

Photo:
From the surprise visit to Stenmark's office
(From left): Harald Stenmark, Øystein Djupedal and Arvid Hallén.
(click to enlarge image)