Article from the Stenmark group selected "JBC Paper of the week"

Thomas Slagsvold
A paper from the
Stenmark group
, entitled "
Eap45 in mammalian ESCRT-II binds ubiquitin via a phosphoinositide-interacting GLUE domain
," with
Thomas Slagsvold
(photo) as first writer, has been selected as a Journal of Biological Chemistry Paper of the Week. The paper appeared in the May 20 issue of the journal.
The Papers of the Week is a feature of
JBC Online
. Their Editorial Board members and Associate Editors are asked to select papers that rank in the top 1% of papers they will review in a year in significance and overall importance. About 50-100 papers are each year from the over 6600 that are published.
Links:

Stenmark group
The Journal of Biological Chemistry (JBC Online)

Slagsvold T, Aasland R, Hirano S, Bache KG, Raiborg C, Trambaiolo D, Wakatsuki S, Stenmark H.
Eap45 in mammalian ESCRT-II binds ubiquitin via a phosphoinositide-interacting GLUE domain.
J Biol Chem. 2005 May 20;280(20):19600-6.


Abstract:

Ubiquitination serves as a key sorting signal in the lysosomal degradation of endocytosed receptors through the ability of ubiquitinated membrane proteins to be recognized and sorted by ubiquitin-binding proteins along the endocytic route. The ESCRT-II complex in yeast contains one such protein, Vps36, which harbors a ubiquitin-binding NZF domain and is required for vacuolar sorting of ubiquitinated membrane proteins. Surprisingly, the presumptive mammalian ortholog Eap45 lacks the ubiquitin-binding module of Vps36, and it is thus not clear whether mammalian ESCRT-II functions to bind ubiquitinated cargo. In this paper, we provide evidence that Eap45 contains a novel ubiquitin-binding domain, GLUE (GRAM-like ubiquitin-binding in Eap45), which binds ubiquitin with similar affinity and specificity as other ubiquitin-binding domains. The GLUE domain shares similarities in its primary and predicted secondary structures to phosphoinositide-binding GRAM and PH domains. Accordingly, we find that Eap45 binds to a subset of 3-phosphoinositides, suggesting that ubiquitin recognition could be coordinated with phosphoinositide binding. Furthermore, we show that Eap45 colocalizes with ubiquitinated proteins on late endosomes. These results are consistent with a role for Eap45 in endosomal sorting of ubiquitinated cargo.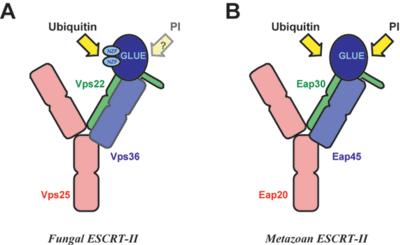 (click to enlarge)