Nature Communications publication: How Natural Killer Cells Remember their Education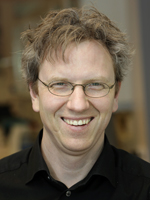 A joint effort by several groups at the Institute for Cancer Research and University of Oslo, led by Dr. Jodie Goodridge and Prof. Karl-Johan Malmberg provide new insights into the molecular basis behind NK cell education.
NK cells calibrate their functional potential against host MHC in a process termed education. Paradoxically, the more inhibitory input the cell receives during its education, the stronger its functional potential. Although this phenomena is well documented and conserved across species, the cellular and molecular mechanisms underlying NK cell education have remained elusive.
Goodridge et al., show that NK cell education is associated with remodeling of the lysosomal compartment and defines a role for the lysosomal Ca2+channel TRPML1 in this process. Educated NK cells show a non-transcriptional accumulation of large dense-core secretory lysosomes filled with effector molecules (granzyme B and perforin) that are released upon interaction with tumor cells. Furthermore, Ca2+signaling from acidic Ca2+stores contribute to propagate surface receptor signaling, potentially explaining the globally increased responsiveness by educated NK cells.
This concept has implications for NK cell therapy against cancer and is currently being investigated with support by a Toppforsk grant awarded to the Malmberg Lab.
Other groups involved are Kjetil Tasken, Andreas Brech, Harald Stenmark, Leonardo A. Meza-Zepeda and William E. Louch.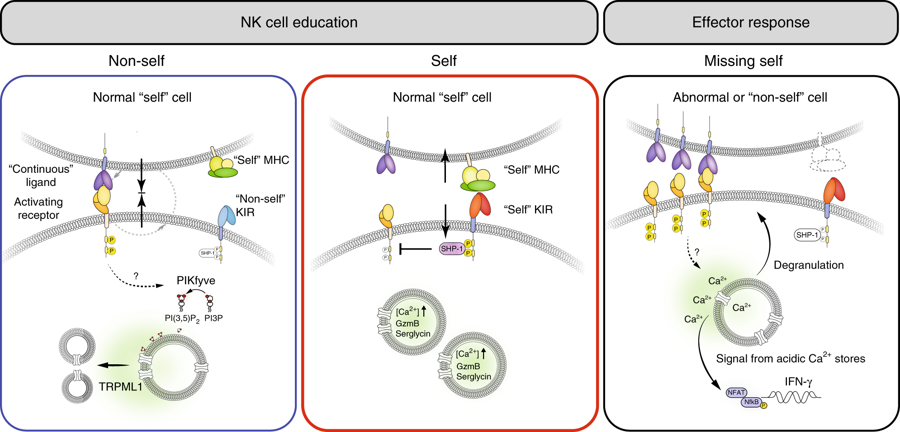 ---
Links:
The article, published 31 January 2019:
Remodeling of secretory lysosomes during education tunes functional potential in NK cells
Jodie P. Goodridge, Benedikt Jacobs, Michelle L. Saetersmoen, Dennis Clement, Quirin Hammer, Trevor Clancy, Ellen Skarpen, Andreas Brech, Johannes Landskron, Christian Grimm, Aline Pfefferle, Leonardo Meza-Zepeda, Susanne Lorenz, Merete Thune Wiiger, William E. Louch, Eivind Heggernes Ask, Lisa L. Liu, Vincent Yi Sheng Oei, Una Kjällquist, Sten Linnarsson, Sandip Patel, Kjetil Taskén, Harald Stenmark & Karl-Johan Malmberg
Nature Communications volume 10, Article number: 514 (2019)
---
Home pages:
Karl-Johan Malmberg's group: Natural Killer Cell Biology and Cell Therapy
Kjetil Taskén's group: Cell Signalling and Immune Regulation
Andreas Brech's group: Unit of Cellular Electron Microscopy (UCEM)
Harald A. Stenmark's group: Cellular membrane dynamics
Leonardo A. Meza-Zepeda's project group: Translational Genomics
William A. Louch's group: Cardiomyocyte function in health and disease
---
Previous news articles:

Karl-Johan Malmberg awarded FRIPRO Toppforsk grant

From UiO home page (in Norwegian):
FRIPRO Toppforsk til tre medisinprosjekter