Jorrit Enserink and Tor Erik Rusten new group leaders at MCB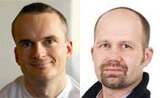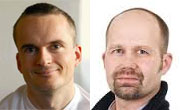 Two skilful and talented scientists have recently been appointed group leaders at the Department of Molecular Cell Biology at the Institute for Cancer Research.
Jorrit Enserink (left) heads the "Dynamic responses to cell stress" group. He was previously affiliated to the Department of Microbiology at the Division of Laboratory Medicine, OUS.
Tor Erik Rusten is heading the "Tumor-Host Biology" group, and has been promoted from his previous project group leader status at the same department.