Institute seminar Wednesday 11th of March Viola Lobert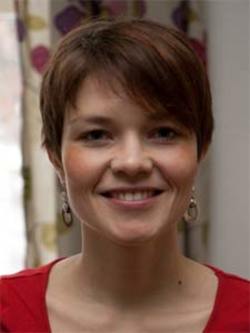 The Institute Seminar on Wednesday 11th of March will ble held by Viola Lobert from the Department of Molecular Cell Biology.
The title of her talk is:
"Regulation of epithelial polarity in tumorigenesis – from tank to bedside"
Time and place: 12:00 in the Auditorium, Inst. for Cancer Res., Montebello.
Abstract:
Colorectal cancer (CRC) affects both men and women and comes third after lung and breast cancer as one of the most common cancer types worldwide. In Nordic countries it is the second most common cancer after breast cancer. Importantly, CRC has shown an increase in incidence in Norway over the last 50 years. Most adult cancers are carcinomas that arise from epithelial cells. During cancer progression, epithelial organization is lost as cells lose contacts with their neighbors and become more motile and invasive. This change from an epithelial-to-mesenchymal morphology (EMT) is associated with poor prognosis. It is therefore highly relevant to study processes that regulate epithelial integrity and to identify regulators of this process. The zebrafish has become an important vertebrate model organism in which to study cancer, since zebrafish tumors resemble human tumors at the histological, gene expression and genomic models. While existing models of colon cancer in zebrafish currently show some limitations, larval models of intestinal development have been used as a surrogate to study colon cancer progression.

Links:

Viola Lobert's publications

Home page of Harald Stenmark's Intracellular communication group

Department of Molecular Cell Biology

Institute seminar organizers:

Stine H. Kresse, Trevor Clancy and Mads H. Haugen
(Dept. of Tumor Biology and Immunology)