Department of Cancer Prevention held a public cancer research event for the Røst community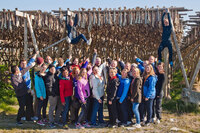 Professors Ragnhild A. Lothe, Guro E. Lind and Rolf Skotheim recently arranged a popular science event for the inhabitants of Røst with support from the mayor of Røst, Tor Andreassen, and the district medical officer, Kjell Arne Helgebostad.
The department members visited the school at Røst to discuss educational possibilities for a cancer researcher career. In the evening the inhabitants were invited to "Fiskarheimen Havly" where the department members presented three overview lectures, twelve poster stands and two laboratory stands. The latter, organized by the department's principal engineers, Mette Eknæs, Merete Hektoen, Hilde Honne and PhD student Ina E Andrassy included extraction of your own DNA from the mouth cavity, and the captured DNA was transferred into a small glass jar of a "give away" necklace. The discussions were lively around all the posters.
(click for larger images)
| | | |
| --- | --- | --- |
| | | |
| Sailing in to Røst | Visiting the school at Røst - presenting educational opportunities within cancer research | Department of Cancer Prevention at Røst |
| | | |
| Rolf I. Skotheim presenting: "New technology - significance for the cancer patient. Prostate cancer." | Guro E. Lind presenting: "Early detection of cancer" | In charge of the lab: Dept eng. Mette Eknæs, stipendiate Ina Eilertsen, dept. eng. Merete Hektoen, with personal "DNA jewellry" |
| | | |
| Pipetting competition | Head of department Ragnhild A. Lothe with deputy mayor at Røst showing a freshly made piece of DNA jewellry | Lively discussions with participants around the poster- and lab-stations |
Links:
Invitation (in Norwegian) (pdf format)