OUS statistician Kathrine F. Frøslie co-author new book aimed at fresh researchers

Kathrine Frey Frøslie, statistician and PhD student at the Norwegian Resource Centre for Womens Health at the Department of Gynaecology, OUS, has in collaboration with Jo Røislien authored a book (in Norwegian) about statistics that is especially suited for researchers within biomedical sciences being at early stages in their careers.
Frøslie has since 1997 held countless introductory courses in statistics for medical stipendiates at the hospital and she has contributed statistical supervision in nearly 300 resesearch projects.
Kathrine Frey Frøslie's publications


Article about the new book "Tall forteller":
Nyttig om statistikk for medisinere og ferske forskere
Fü statistikk under huden. Det er formület med den rykende ferske boken Tall forteller, ifølge forfatter Kathrine Frey Frøslie.

Av Ram Eivind Gupta (ramgup@ous-hf.no)

- Boken passer veldig godt for medisinere og ferske forskere, mener Kathrine Frey Frøslie.

Forfatteren og statistikeren vet hva hun snakker om. Siden 1997 har hun holdt uttallige innføringskurs i statistikk for medisinske stipendiater ved sykehuset og veiledet i nÌrmere 300 forskningsprosjekter.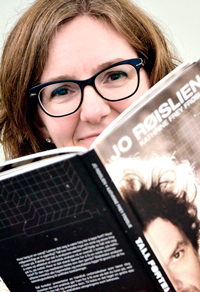 Tallene er ikke budskapet

Frøslie er helt med pü at statistikk kan vÌre vanskelig, ogsü for forskere. Likevel er hun bestemt pü at alle kan forstü statistikk, selv en 13-üring.

Problemet er at det ofte oppstĂĽr en skogen og trĂŚrne-effekt, ferske forskere gĂĽr seg vill i de statistiske begrepene og mister av syne problemstillingen de startet med.

I følge boken er tallene bare hjelpemidler til ü beskrive det vi lurer pü, det vi egentlig vil si noe om. Tallene er ikke budskapet, det er forskningen som er budskapet.

Boken skal hjelpe til ĂĽ forstĂĽ forskjellen pĂĽ tallene og hva tallene viser til.

Pedagogisk og oversiktlig

Gjennom nøye og pedagogisk utvalgte eksempler gir Tall forteller en enkel og praktisk innføring i hvordan vi kan forstü statistikk og hva tallene egentlig forteller.

Forfatterne har lagt stor vekt pü at boken skal vÌre oversiktlig. Hvert kapittel tar for seg en bestemt problemstilling. Alle kapitlene er pü nøyaktig fire sider. I tillegg er kapitlene bygget over samme lest som en tradisjonell IMRAD-artikkel, med et lite avsnitt for innledning, metode, resultat og diskusjon.

Egen app

Med boken følger en egen statistikk-app, og som lar leseren utføre de statistiske beregningene som behøves. Sidene er illustrert med fotografier av den norske fotografen Pül Laukli, som blant annet tar bilder for Moods of Norway.

Frøslie er for tiden stipendiat ved Nasjonal kompetansetjeneste for kvinnehelse, OUS. I flere ür var hun og medforfatter Jo Røislien kolleger ved Biostatistikk-enheten pü Rikshospitalet og senere OUS.

Jo Røislien er kjent fra TV-serien "Siffer", et underholdningsprogram om matematikk for folk flest. I dag arbeider han ved Norsk luftambulanse og UiO som statistiker og forskningsveileder.

Jo Røislien og Kathrine Frey Frøslie:
Tall forteller. Hvordan bruke tall til ĂĽ finne ut om verden er slik du tror den er.
Gyldendal
Forlagets omtale