The Ringel Service Award to Øivind Ekeberg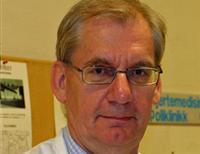 Professor Øivind Ekberg from the Department of Acute Medicine, Division of Medicine, OUS, was given "The Ringel Service Award" during the "XXVII World Congress of the International Association for Suicide Prevention (IASP), recently held in Oslo. This award is distributed every second year for distinquished service in the field for suicidology.
Ekeberg har performed extensive research in the field, resulting in a large number of publications, and he has supervised many stipendiates to their doctoral theses.
About The Ringel Service Award (from the IASP home page)

The Ringel Service Award was instituted in 1995 and honours the late Professor Erwin Ringel, the founding President of the Association. This award is for distinguished service in the field of suicidology, and nominations can be made by National Representatives of IASP.

National Representatives of the International Association for Suicide Prevention (IASP) are invited to nominate suitable persons to recieve the Ringel Service Award. Nominees do not necessarily have to be IASP members. The criteria for selection are:
Actively involved in the practice of suicide prevention and crisis intervention and its dissemination;
Acknowledged as a national initator or leader in the field.
Suicide prevention and/or crisis intervention should be the main portion of his/her work.

Links

From Oslo University Hospital, Norwegian pages:
Øivind Ekeberg tildelt pris for forebygging av selvmord

Øivind Ekeberg's publications

International Association for Suicide Prevention (IASP) home page