Institute seminars autumn 2013: Brit Farstad and Sindre Hassfjell opens autumn season September 4th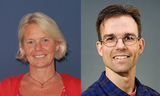 The first seminar in the autumn season of 2013 will be held by Brit Farstad and Sindre Hassfjell from the Institute for Energy Technology. Titles of their talks:
Brit Farstad: Nuclear activity within the Institute for Energy technology (IFE) – Radiopharmaceuticals.
Sindre Hassfjell: Development of new radiopharmaceuticals - collaboration between the Radium Hospital and IFE?

Time and place: September 4th at 12:00 – 13:00 in the Auditorium (K building).