Ragnhild A. Lothe's research presented by the Norwegian Cancer Society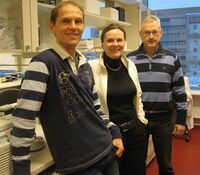 The research section of the Norwegian Cancer Society publish popular scientific articles about successful research groups they support financially. The activities of Ragnhild A. Lothe's group at the Department of Cancer Prevention at the Institute for Cancer Research is now presented.

Lothe's research team studies the genetics and epigenetics of human solid tumours, with special emphasis on colorectal cancer, testicular cancer, and nerve cancer. Their goal is to bring results from molecular biology into clinical utility.