Untangling the development of breast cancer Researchers announce the first comprehensive genome studies of the evolution of 21 breast cancers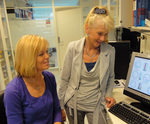 In two back-to-back reports published online on 17 May in Cell (journal impact factor 32.4) , researchers have sequenced the genomes of 21 breast cancers and analysed the mutations that emerged during the tumours" development.
Led by researchers from the Wellcome Trust Sanger Institute, the team created a catalogue of all the mutations in the genomes of the 21 cancer genomes and identified the mutational processes that lead to breast cancer. They found that these mutations accumulate in breast cells over many years, initially rather slowly, but picking up more and more momentum as the genetic damage builds up.

Anita Langer√łd and Anne-Lise B√łrresen-Dale (photo) from the Department of Genetics at the Institute for Cancer Research have made strong contributions to this work.
Links:
From Cell (journal impact factor 32.4):
The Life History of 21 Breast Cancers

Mutational Processes Molding the Genomes of 21 Breast Cancers
From the Wellcome Trust Sanger Institute:
Media release (download in pdf format)
Untangling the development of breast cancer - presentation from the Wellcome Trust Sanger Institute home page
From ous-research.no:
Anne-Lise B√łrresen-Dale's publications
Anita Langer√łd's publications