Oslo University Hospital awards 6 excellent articles for second half-year of 2011
In order to stimulate excellent research and draw attention to the hospital's extensive research activity, Oslo University Hospital reward outstanding publications regularly. Every half-year, six of the very best papers authored by scientists working on the hospital (first or last author must be affiliated to OUS) are selected.
Six articles are awarded NOK 50.000. The sum will normally go to the research group of which the first-author represents. The nomination takes place through the research panel of each division. The final selection process is performed by an external committee.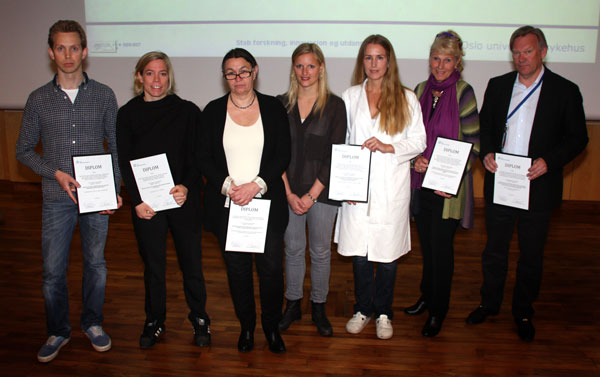 From left: Yngve Sejersted, Kristina Gervin, Ingrid Melle, Ida G. Lunde, Alexandra V. Finsen, Anne-Lise Børresen-Dahle and Per Morten Sandset
The six selected scientific papers from Oslo University Hospital for the first half-year of 2011:
Award winner: Division of Diagnostics and Intervention, Department of Microbiology

Sejersted et al., published in PNAS

Endonuclease VIII-like 3 (Neil3) DNA glycosylase promotes neurogenesis induced by hypoxia-ischemia.
Sejersted Y, Hildrestrand GA, Kunke D, Rolseth V, Krokeide SZ, Neurauter CG, Suganthan R, Atneosen-Åsegg M, Fleming AM, Saugstad OD, Burrows CJ, Luna L, Bjørås M.
Proc Natl Acad Sci U S A. 2011 Nov 15;108(46):18802-7. Epub 2011 Nov 7.


Award winner: Division of Diagnostics and Intervention, Department of Medical Genetics

Gervin et al., published in Genome Research

Extensive variation and low heritability of DNA methylation identified in a twin study.
Gervin K, Hammerø M, Akselsen HE, Moe R, Nygård H, Brandt I, Gjessing HK, Harris JR, Undlien DE, Lyle R.
Genome Res. 2011 Nov;21(11):1813-21. Epub 2011 Sep 26.
Award winner: Division of Mental Health and Addiction, Department of Science and Development

Aas et al., publisert i Schizophrenia Bulletin
Serotonin Transporter Gene Polymorphism, Childhood Trauma, and Cognition in Patients With Psychotic Disorders

Serotonin transporter gene polymorphism, childhood trauma, and cognition in patients with psychotic disorders.
Aas M, Djurovic S, Athanasiu L, Steen NE, Agartz I, Lorentzen S, Sundet K, Andreassen OA, Melle I.
Schizophr Bull. 2012 Jan;38(1):15-22. Epub 2011 Sep


Award winner: Division of Cardiovascular and Pulmonary Diseases, Institute for Experimental Medical Research

Finsen et al., published in PLoS One

Syndecan-4 is essential for development of concentric myocardial hypertrophy via stretch-induced activation of the calcineurin-NFAT pathway.
Finsen AV, Lunde IG, Sjaastad I, Østli EK, Lyngra M, Jarstadmarken HO, Hasic A, Nygård S, Wilcox-Adelman SA, Goetinck PF, Lyberg T, Skrbic B, Florholmen G, Tønnessen T, Louch WE, Djurovic S, Carlson CR, Christensen G.
PLoS One. 2011;6(12):e28302. Epub 2011 Dec 2.


Award winner: Division of Cancer Medicine, Surgery and Transplantation, Institute for Cancer Research

Kristensen et al, published in PNAS

Integrated molecular profiles of invasive breast tumors and ductal carcinoma in situ (DCIS) reveal differential vascular and interleukin signaling.
Kristensen VN, Vaske CJ, Ursini-Siegel J, Van Loo P, Nordgard SH, Sachidanandam R, Sørlie T, Wärnberg F, Haakensen VD, Helland Å, Naume B, Perou CM, Haussler D, Troyanskaya OG, Børresen-Dale AL.
Proc Natl Acad Sci U S A. 2012 Feb 21;109(8):2802-7. Epub 2011 Sep 9.


Award winner: Division of Cancer Medicine, Surgery and Transplantation, Department of Haematology

Enden et al., published in Lancet

Long-term outcome after additional catheter-directed thrombolysis versus standard treatment for acute iliofemoral deep vein thrombosis (the CaVenT study): a randomised controlled trial.
Enden T, Haig Y, Kløw NE, Slagsvold CE, Sandvik L, Ghanima W, Hafsahl G, Holme PA, Holmen LO, Njaastad AM, Sandbæk G, Sandset PM; CaVenT Study Group.
Lancet. 2012 Jan 7;379(9810):31-8. Epub 2011 Dec 13.
---
Link:
News article with from the Oslo University Hospital home page (in Norwegian), with summaries of the main findings of each awarded paper:
"Fikk priser for fremragende forskningsartikler"