New gene-based prognostic test for colorectal cancer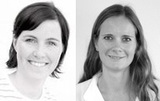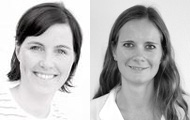 Researchers at Oslo University Hospital, Radium Hospital and Aker, have developed a prognostic test for patients with stage II colorectal cancer. The test, ColoGuideEx, measures the activity of 13 genes in the cancer tissue, and each gene contributes with prognostic information.
The study was published on January 2nd, 2012, in the prestigious journal GUT (impact factor 11). The first authors, Trude Ă…gesen and Anita Sveen (photo), are PhD students in the research groups of Ragnhild A. Lothe and Rolf I. Skotheim, Department of Cancer Prevention, Institute for Cancer Research.
ColoGuideEx is developed with advanced statistics on gene expression measurements of all human genes in a set of cancer patients treated at OUS-Aker. ColoGuideEx is validated as a robust test in two independent series of patient samples, one from Norway and the other from USA and Australia.
The study is led by Professor Lothe, and is part of a larger collaboration on "prognostic and predictive biomarkers of colorectal cancer" between the Department of Cancer Prevention, Institute for Cancer Research and Department of Gastro Surgery, by Professor Arild Nesbakken. All authors are affiliated with the Centre of Excellence, Centre for Cancer Biomedicine.
Colorectal cancer has the second most incident cancer in Norway, with about 3500 new cases annually. About 40% of the patients die because of their disease within five years. The prognosis is particularly dependent on the disease stage at the time of diagnosis. The standard treatment for stage II colorectal cancer patients does not include adjuvant chemotherapy, unless too few lymph nodes have been investigated or if the bowel has been perforated before or during surgery. For rectal cancer, radiation therapy or chemotherapy is given to approximately 30 % of the patients before surgery, but it is not routine to administer post operative chemotherapy. About 25 - 30 % of the patients with stage II colorectal cancer experience relapse of disease. Thus, it is important to identify good biomarkers which can identify the patients with poor prognosis, and who can profit from adjuvant chemotherapy. ColoGuideEx has the potential to guide the oncologists in selecting the patients who should be offered additional treatment, and leave untreated those who will be cured by surgery alone.
Links:
ColoGuideEx: a robust gene classifier specific for stage II colorectal cancer prognosis.
Agesen TH, Sveen A, Merok MA, Lind GE, Nesbakken A, Skotheim RI, Lothe RA.
Gut. 2012 Jan 2.
PubMed - Gut - PDF of the article (from Gut)
Department of Cancer Prevention