Inven2 Prize 2011 to the research group of Johanne Olweus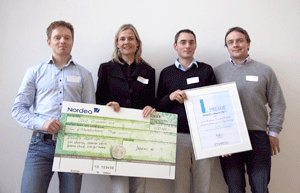 Inven2 is the tech transfer office at Oslo University Hospital, University of Oslo and South-Eastern Norway Regional Health Authority and the largest such office in Norway.
The Inven2 Prize is an annual award amounting to NOK 100 000 to take a business idea based on research results originating from UiO, OUS or Health Region South-East further.

The Inven2 Prize for 2011 went to the Johanne Olweus's "Immunotherapy and Antigen presentation" reseach group for developing a novel method to produce soluble T-cell receptors in human cells.
The prize was distributed during the annual "Gründerdag" on October 20th 2011 in Forskningsparken at Oslo Innovation Center. Here, three prizes in different categories were distributed.
About Inven2:
The ambition of Inven2 is committed to the building of new businesses based on cutting-edge technology from their owners.

Inven2 annually evaluate 200 ideas, so far 1/3 has resulted in new patents and more than 1/10 resulted in commercialisation.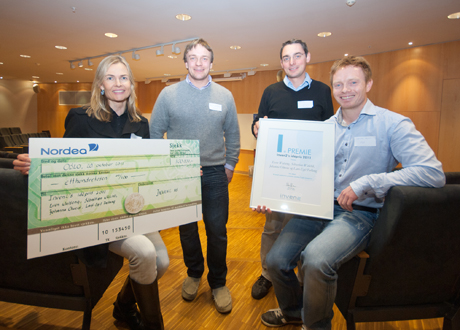 From left: Johanna Olweus, Even Walseng, Sébastien Wälchli and Lars-Egil Fallang
(photo: John Hughes)
Links
:
Article about the Inven2 Prize for 2011 from the UiO web pages (in Norwegian):
Idéprisen 2011: Nyvinnende immunterapi
Article from the web pages of Oslo Innovation Center: "Vinnerne av gründerpriser"

Home page of Johanne Olweus group - "Immunotherapy and Antigen presentation"

Johanne Olweus's publications

Department of Immunology

Institute for Cancer Research