August 26th: Norsk Hydros Fond for Cancer Research Guest Lecture William H. McBride: "Radiation-induced inflammation and tumor immunity"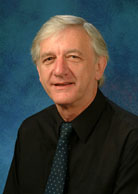 William H. McBride, director of the division of cellular and molecular oncology at the Department of Radiation Oncology at UCLA, will give a guest lecture in the Auditorium, Forskningsbygget on Friday, August 26th 11 am.

His research is focused on damage responses to radiation in normal tissue and malignant tumors. He has published more than 200 papers and was rewarded the Gold Medal award by the American Society for Radiation Oncology in 2010.
ABSTRACT:

In addition to classic DNA damage responses, ionizing radiation exposure activates pathologic tissue damage responses that trigger canonical inflammatory pathways by innate immune cells responding to release of extracellular molecular signals (DAMPs). Pro-inflammatory, pro-oxidant responses are initiated that recur in waves over time as anti-oxidant pathways aim to regain tissue homeostasis. These pathways offer opportunities for post-exposure therapeutic intervention to mitigate radiation's harmful and even lethal consequences. A specific consequence of pathologic cell death and pro-inflammatory signaling is triggering of adoptive antigen-specific immune responses through maturation of dendritic cells. Radiation therapy for cancer therefore can act as an immunological adjuvant to enhance anti-tumor immunity, opening up possibilities for combination therapies involving immunotherapy and radiation therapy.


About William H. McBride (from the web pages of Jonsson Comprehensive Cancer Center at UCLA)

Willian H. McBride's PubMed registered articles