Trial lecture and disputation May 19th Cand.med. Christoph Rainer Müller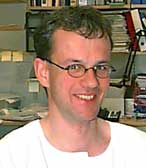 Cand.med. Christoph Rainer Müller from Ola Myklebost's group at the Department of Tumor Biology will give his trial lecture on Thursday May 19th at 10:15 on the subject "New Experimental Methods in the Treatment of Cancer. Are we making progress?"

He will defend his PhD thesis - entitled "Novel approaches to the treatment of high grade sarcomas" at 13:15 the same day.

Both events take place in the Auditorium in the research building (K building) at OUS-Radiumhospitalet (Montebello).