21st Meeting of the European Association for Cancer Research in Oslo June 26-29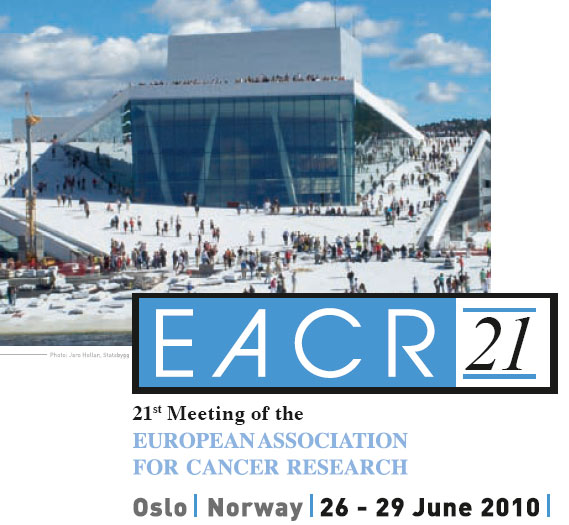 From 26 - 29 June 2010, EACR-21 will provide the discussion and exchange forum for scientists in all fields of cancer research to focus on the very latest basic and discovery driven translational research and the essential next steps towards converting new knowledge into a reality at the patient level. There will be than 1400 participants, the highest number so for for a EACR meeting.
Among the many prominent speakers is Elizabeth H. Blackburn - who was jointly awarded the Nobel Prize in Physiology or Medicine for 2009 "for the discovery of how chromosomes are protected by telomeres and the enzyme telomerase".
The opening ceremony takes place at the Opera House Saturday 26 June. The audience will be welcomed by Anne-Lise Børresen-Dale - EACR 21 Conference and Scientific Chair.
The prize winner of the "Young and promising cancer researcher" award will be announced by Anne Lise Ryel - secretary-general of the Norwegian Cancer Society.
Greeting speeches will be given by Prof. Jan Vincents Johannessen and by The Minister of Health and Care Services Anne-Grete Strøm-Erichsen.
The opening lecture - entitled "Stopping cancer: a challenge for science and society" - will be held by Sir David Lane, director of the Cancer Research UK Transformation Research Group at the University of Dundee.
Some highlights from the meeting:
Saturday 26 June:
13:15 Telomeres and telomerase: their roles in human health and disease
Speaker: E.H. Blackburn (USA)
16:00 Studying the p53 pathway using Zebra fish models
Speaker: D. Lane (United Kingdom)
Monday 28 June
13:45-14:35 Award Lecture: Anthony Dipple Carcinogenesis Award
Dr. David Livingston has been chosen to receive the Anthony Dipple Award in recognition of his major contributions to the field of carcinogenesis.
Tuesday 29 June
09:00−09:50 Award Lecture: Carcinogenesis Young Investigator's Award
Dr. Thomas Helleday is the recipient of the Carcinogenesis Young Investigator Award, given to an investigator under the age of 40 for a recent, significant contribution to carcinogenesis research.
Both winners' papers have been published in the June issue of Carcinogenesis.
More about the 2010 Carcinogenesis award winners from the Carcinogenesis home page

Link:

21st Meeting of the European Association for Cancer Research Home Page