Results published in Nature Cancer: Possible new treatment for acute myeloid leukemia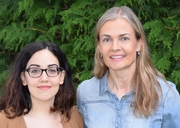 Johanna Olweus and colleagues have now found that certain mutations in cancer cells can be attractive targets in acute myeloid leukemia (AML). The study is published in the prestigious journal Nature Cancer.
"This provides hope that we can develop a new and effective treatment for acute myeloid leukemia. The results are likely of relevance also for other types of cancer," says Olweus.
Olweus is PI of the work carried out by her research group at UiO and OUS, in collaboration with the groups of researcher Petter Woll and Professor Sten Eirik Jacobsen at Karolinska Institutet. Postdoctoral fellow Eirini Giannakopoulou in Olweus' group is first author on the article describing the results.
Links:
Complete and comprehensive original news article from the University of Oslo home page:
Possible new treatment for leukemia (med.uio.no), by Julie Nybakk Kvaal
The Nature Cancer article:
A T cell receptor targeting a recurrent driver mutation in FLT3 mediates elimination of primary human acute myeloid leukemia in vivo.
Giannakopoulou E, Lehander M, Virding Culleton S, Yang W, Li Y, Karpanen T, Yoshizato T, Rustad EH, Nielsen MM, Bollineni RC, Tran TT, Delic-Sarac M, Gjerdingen TJ, Douvlataniotis K, Laos M, Ali M, Hillen A, Mazzi S, Chin DWL, Mehta A, Holm JS, Bentzen AK, Bill M, Griffioen M, Gedde-Dahl T, Lehmann S, Jacobsen SEW, Woll PS, Olweus J.
Nat Cancer. 2023 Oct 2. doi: 10.1038/s43018-023-00642-8. Online ahead of print.
PMID: 37783807
The Experimental Immunotherapy Group, headed by Johanna Olweus
Eirini Giannakopoulou, first author