Dr. Ragnar Mørk legacy prize to Bjørn Naume

Bjørn Naume
This year's prize from "Dr. Ragnar Mørk legacy" has been awarded to Bjørn Naume. The award is personal, and amounts to NOK 200.000.
The ceremony took place at Thursday 29th of November in the seminar room (F4) at the Institute for Cancer Research .
The purpose of the prize is to promote and encourage cancer research at the Norwegian Radium Hospital.
The "Dr. Ragnar Mørk legacy" prize is distributed annually to a scientist who has achieved excellent results throughout years of outstanding research. This is the sixth time this mark of honor is distributed.

Naume is given the prize for his first-rate clincial research, especially in the field of cancer mammae and micrometastaes
From the ceremony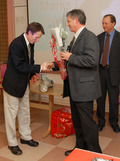 Bjørn Naume congratulated and presented with flowers by Erlend B. Smeland.

Smeland is director at the Institute for Cancer research and member of the Ragnar Mørk legacy evaluation committee.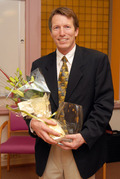 Bjørn Naume at the conclusion of the formal ceremony.

After receiving the prize and being praised for his excellent work as a researcher, teambuilder and administrator, and for his valuable contributions in the field of translational research at the Norwegian Radium Hospital, Bjørn Naume gave a lecture entitled "Breast cancer and tumor cell dissemination".
Links